This round-up brings you everything you need to know about the COP26 climate summit, climate change and greenhouse gas emissions targets.
Top stories: COP26 deal set to see nations and organizations pledge to quit coal; Coalition worth $130 trillion vows to put climate at heart of finance; First Movers Coalition to launch today.
Key COP26 news stories
Some of the world's largest sporting organizations, including FIFA and the International Olympic Committee, have committed at COP26 to reach net zero by 2040.
US climate envoy John Kerry said yesterday at COP26 that current commitments on cutting carbon emissions meant the world had a 60% chance of capping a rise in the average temperature at 1.5 degrees Celsius.
Meanwhile, University of Melbourne research suggests pledges at COP26 would keep global temperatures below 2 degrees Celsius, with India's pledge making a significant difference. But experts, including COP26 President Alok Sharma, said more needed to be done to reach the 1.5 degree Celsius goal.

British Prime Minister said yesterday at COP26 that while there was a 'long way to go' on tackling climate change, he was 'cautiously optimistic'.
COP26 coalition worth $130 trillion vows to put climate at heart of finance
It comes as COP26 delegates debate not only the extent of global pledges to cut emissions but also how to meet these goals, particularly in the developing world - and where the money will come from.
UN climate envoy Mark Carney, who assembled the Glasgow Financial Alliance for Net Zero (GFANZ), put the figure needed at $100 trillion over the next three decades, and said the finance industry must find ways to raise private money to take the effort far beyond what states alone can do.
"The money is here - but that money needs net zero-aligned projects and (then) there's a way to turn this into a very, very powerful virtuous circle - and that's the challenge," the former Bank of England governor told the summit.
What's the World Economic Forum doing about the transition to clean energy?
Moving to clean energy is key to combating climate change, yet in the past five years, the energy transition has stagnated.
Energy consumption and production contribute to two-thirds of global emissions, and 81% of the global energy system is still based on fossil fuels, the same percentage as 30 years ago. Plus, improvements in the energy intensity of the global economy (the amount of energy used per unit of economic activity) are slowing. In 2018 energy intensity improved by 1.2%, the slowest rate since 2010.
Effective policies, private-sector action and public-private cooperation are needed to create a more inclusive, sustainable, affordable and secure global energy system.
Benchmarking progress is essential to a successful transition. The World Economic Forum's Energy Transition Index, which ranks 115 economies on how well they balance energy security and access with environmental sustainability and affordability, shows that the biggest challenge facing energy transition is the lack of readiness among the world's largest emitters, including US, China, India and Russia. The 10 countries that score the highest in terms of readiness account for only 2.6% of global annual emissions.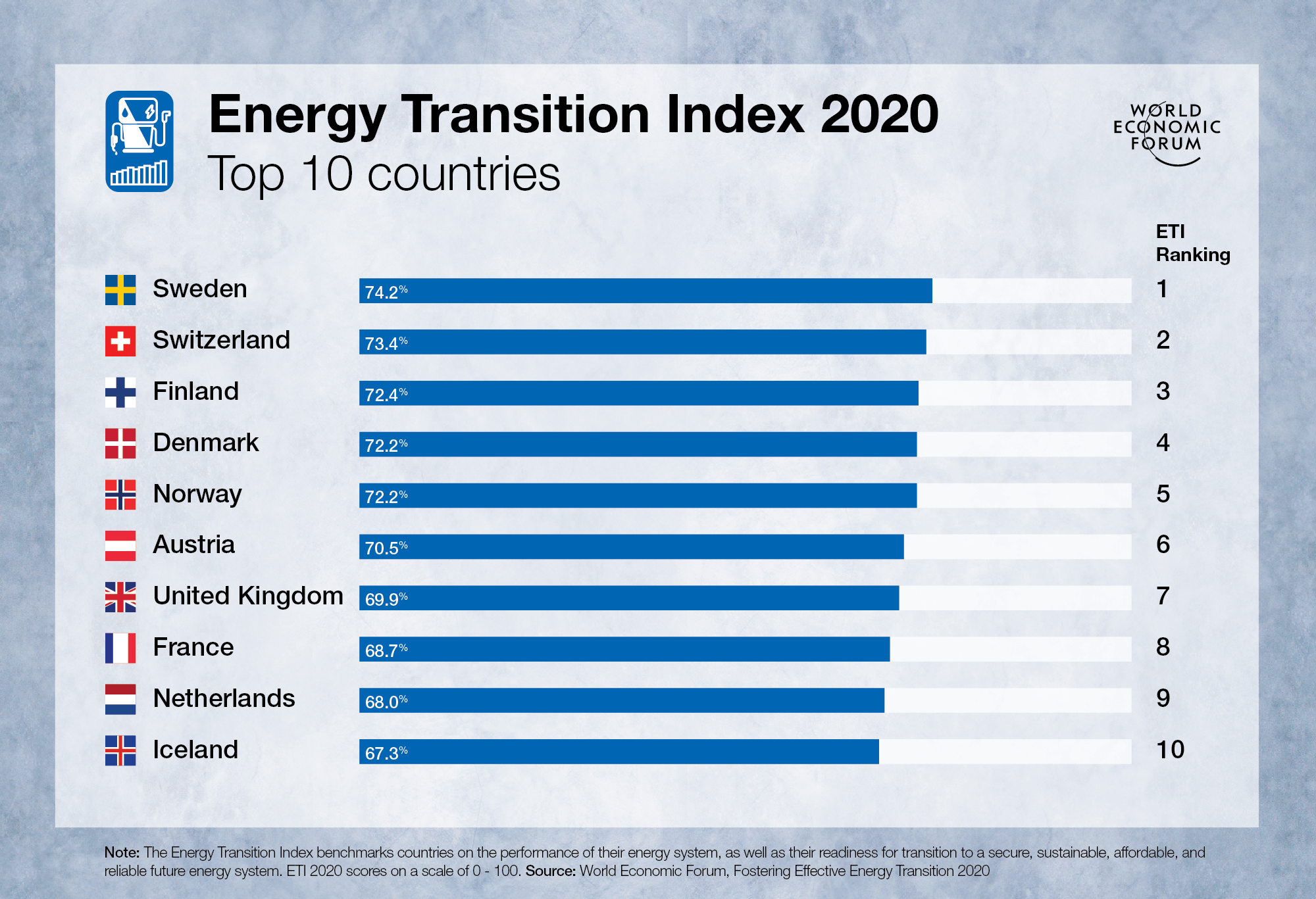 Additionally, the Mission Possible Platform (MPP) is working to assemble public and private partners to further the industry transition to set heavy industry and mobility sectors on the pathway towards net-zero emissions. MPP is an initiative created by the World Economic Forum and the Energy Transitions Commission.
Is your organisation interested in working with the World Economic Forum? Find out more here.
COP26 deal set to see nations and organizations pledge to quit coal
Signatories of the agreement would commit to shun investments in new coal plants at home and abroad, and phase out coal-fuelled power generation in the 2030s in richer countries, and the 2040s for poorer nations, the British government said.

"The end of coal is in sight. The world is moving in the right direction, standing ready to seal coal's fate and embrace the environmental and economic benefits of building a future that is powered by clean energy," British business and energy secretary Kwasi Kwarteng said.
Poland, Viet Nam and Chile are among the countries involved, Reuters reports.