Coal generation in Europe fell by a fifth in the first half of this year, with almost every coal-burning country cutting back.
Western Europe saw particularly dramatic drops in production – up to 79% in Ireland, according to climate think-tank Sandbag. And there were times of zero or near-zero generation in many countries. The UK, for example, switched off its coal plants for a fortnight in May for the first time.
In absolute terms, Germany saw the biggest drop, as it made substantial cutbacks in both hard coal and its dirtier relative lignite. But it remained responsible for over a third of the coal generation in the EU so far this year, the research shows.
What's the World Economic Forum doing about the transition to clean energy?
Moving to clean energy is key to combating climate change, yet in the past five years, the energy transition has stagnated.
Energy consumption and production contribute to two-thirds of global emissions, and 81% of the global energy system is still based on fossil fuels, the same percentage as 30 years ago. Plus, improvements in the energy intensity of the global economy (the amount of energy used per unit of economic activity) are slowing. In 2018 energy intensity improved by 1.2%, the slowest rate since 2010.
Effective policies, private-sector action and public-private cooperation are needed to create a more inclusive, sustainable, affordable and secure global energy system.
Benchmarking progress is essential to a successful transition. The World Economic Forum's Energy Transition Index, which ranks 115 economies on how well they balance energy security and access with environmental sustainability and affordability, shows that the biggest challenge facing energy transition is the lack of readiness among the world's largest emitters, including US, China, India and Russia. The 10 countries that score the highest in terms of readiness account for only 2.6% of global annual emissions.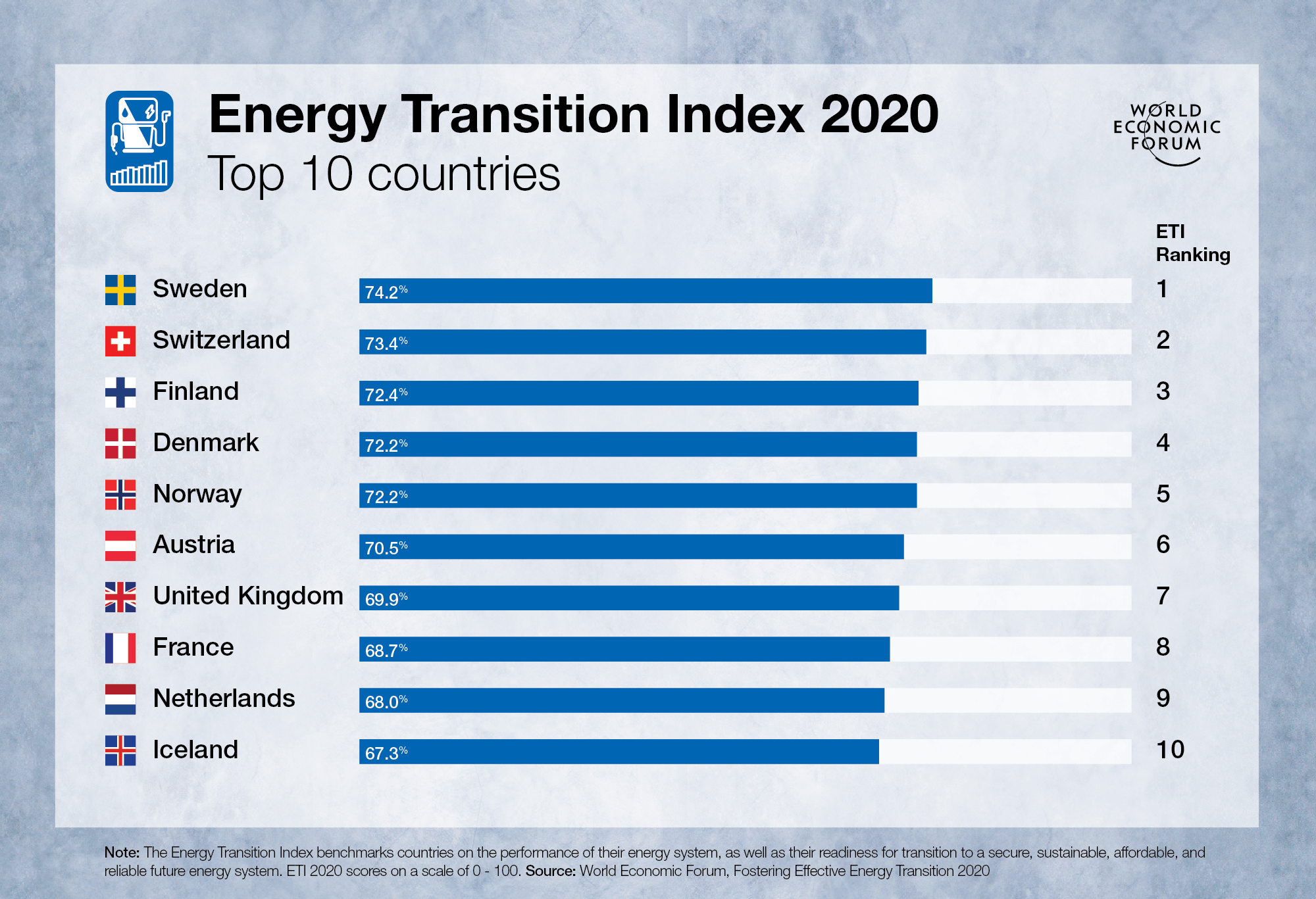 Additionally, the Mission Possible Platform (MPP) is working to assemble public and private partners to further the industry transition to set heavy industry and mobility sectors on the pathway towards net-zero emissions. MPP is an initiative created by the World Economic Forum and the Energy Transitions Commission.
Is your organisation interested in working with the World Economic Forum? Find out more here.
Renewable resources are slowly taking the place of coal, with both solar and wind energy rising across the EU. However, the use of gas, another fossil fuel, has risen as coal disappears and carbon pricing shifts incentives.
The fall in coal use has been much smaller in eastern European countries, with lower uptake of green alternatives. And in some cases, such as Slovenia and Bulgaria, coal generation even rose. Many countries, including Poland, the Czech Republic, Romania, Bulgaria and Greece, still rely heavily on lignite.
The trend for less coal puts the EU on course to reduce greenhouse gas emissions by 1.5% year-on-year. But coal's phase-out is still fairly slow: just a smattering of plants have been closed so far in 2019, mostly in the UK and Germany. And coal will continue to account for 12% of the EU's greenhouse gas emissions this year.
Globally coal makes up almost two-fifths of electricity generation, according to the International Energy Agency. It is also crucial in the iron and steel industries. And while its use has been falling in some regions, such as the US and Europe, demand continues to climb in China and India.