Cheap, odorless and inert, sulphur hexafluoride is widely used in the electricity industry for its insulating properties. But there's a problem: it's also one of the most potent greenhouse gases known to man.
The amount of the gas – known as SF6 – in the atmosphere is minute, only about three parts per trillion by volume, but its global warming potential is significant. It's 23,500 times more warming than carbon dioxide.
And, according to the BBC, our changing energy make-up – including the growth of renewables – is creating more demand for SF6. The diversity of our energy supply has increased demand for electrical switches and circuit breakers, and some offshore wind turbines also use the gas.
What's the World Economic Forum doing about the transition to clean energy?
Moving to clean energy is key to combating climate change, yet in the past five years, the energy transition has stagnated.
Energy consumption and production contribute to two-thirds of global emissions, and 81% of the global energy system is still based on fossil fuels, the same percentage as 30 years ago. Plus, improvements in the energy intensity of the global economy (the amount of energy used per unit of economic activity) are slowing. In 2018 energy intensity improved by 1.2%, the slowest rate since 2010.
Effective policies, private-sector action and public-private cooperation are needed to create a more inclusive, sustainable, affordable and secure global energy system.
Benchmarking progress is essential to a successful transition. The World Economic Forum's Energy Transition Index, which ranks 115 economies on how well they balance energy security and access with environmental sustainability and affordability, shows that the biggest challenge facing energy transition is the lack of readiness among the world's largest emitters, including US, China, India and Russia. The 10 countries that score the highest in terms of readiness account for only 2.6% of global annual emissions.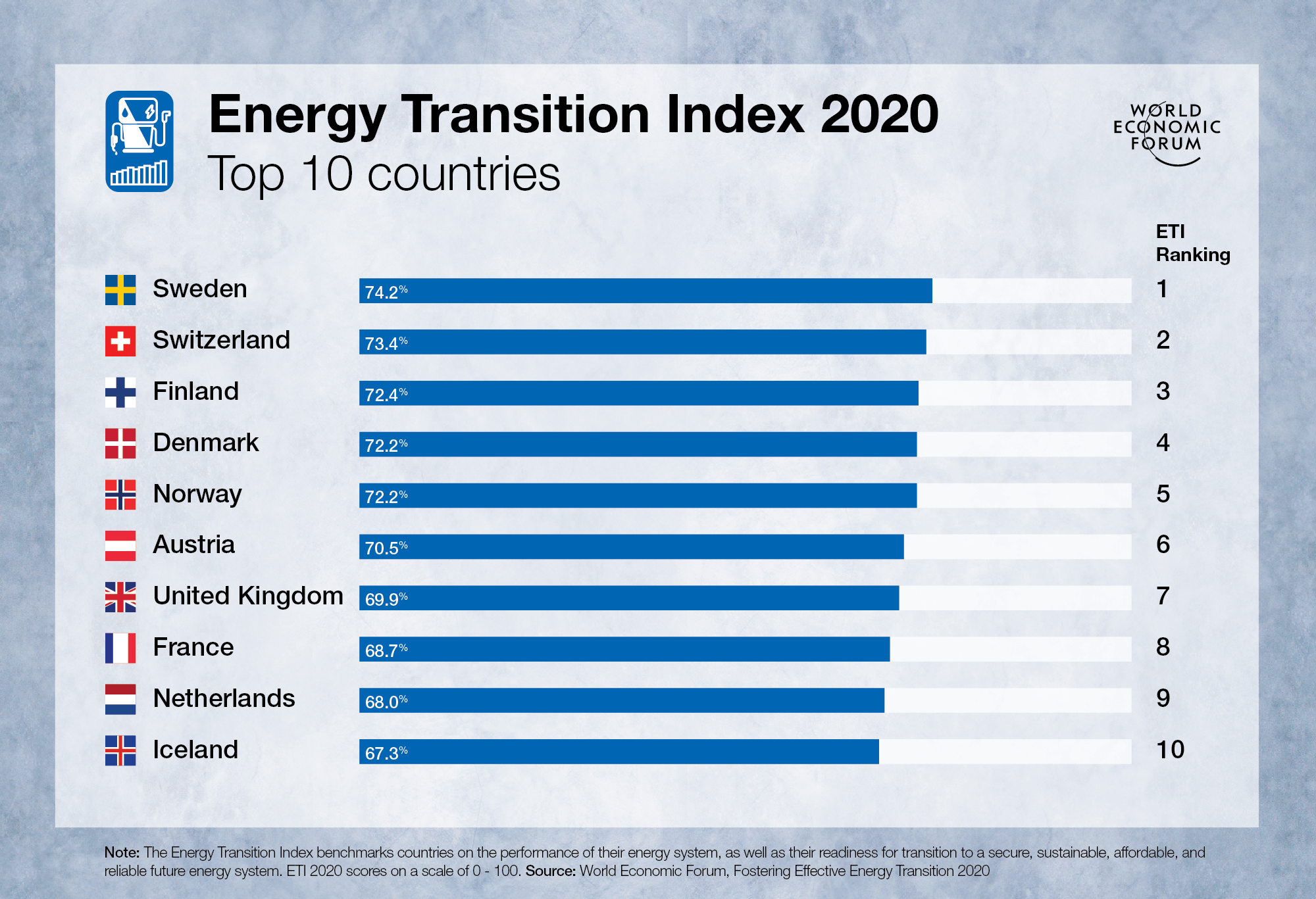 Additionally, the Mission Possible Platform (MPP) is working to assemble public and private partners to further the industry transition to set heavy industry and mobility sectors on the pathway towards net-zero emissions. MPP is an initiative created by the World Economic Forum and the Energy Transitions Commission.
Is your organisation interested in working with the World Economic Forum? Find out more here.
SF6 has a number of properties that make it popular throughout the world as a cost-effective insulator. There's little risk of land or water contamination. And equipment lasts longer, has reduced maintenance and is more compact, requiring a smaller land area.
But some of these properties are also problematic if it leaks into the environment: it is very stable and lasts around 3,200 years, meaning nearly all the SF6 that has been released still exists.
It is difficult to quantify the levels of SF6 that enter the atmosphere through leaks from the electricity industry, as well as its other uses such as magnesium and aluminium smelting and military purposes. A recent study suggests that the UK's use of SF6 has risen in recent years, and leakage levels are over 1%.
It is estimated that, by 2100, appropriate controls could limit the contribution of SF6 to global warming to 0.2%. In the UK, the gas already contributes this much to its annual global warming potential.
SF6 is one of a number of fluorinated gases the European Union limits, with a view to phasing them down in steps to one-fifth of 2014 sales in 2030. In the US, there have also been efforts to curb SF6 use .
The damage potential of greenhouse gases depends on their concentration in the atmosphere, the length of time they stay there, and the strength of their impact.
By volume the so-called F-gases make up one of the smallest levels of emissions, but have among the greatest global warming potential (GWP).
By far the most emitted gas is carbon dioxide, released from burning fossil fuels and in industrial processes such as cement manufacture.
Methane makes up the next biggest proportion of greenhouse gas, emitted by livestock and farming and landfill decay. It has a greater GWP than carbon dioxide, but much less than that of nitrous oxide, which agriculture and manufacturing also emit.