Outdoor air pollution was estimated to have caused 4.2 million premature deaths worldwide in 2016.
As per global air pollution statistics, highest concentrations of air pollution are in Asia.
Lockdowns due to COVID-19 show how quickly pollution can be cut.
Vast swathes of the global population are still exposed to dangerous and increasing levels of air pollution, despite initiatives to clean up our atmosphere and an awareness of the dangers.
Low- and middle-income countries experience the biggest burden, with the highest concentrations seen in Central, Eastern Southern and South-Eastern Asia, according to the team of researchers, led by Professor Gavin Shaddick at the University of Exeter.
"While long-term policies to reduce air pollution have been shown to be effective in many regions, notably in Europe and the United States, there are still regions that have dangerously high levels of air pollution," Shaddick told science news platform EurekAlert!. "Some as much as five times greater than WHO guidelines, and in some countries air pollution is still increasing."
Air Pollution and Risk to health
For the University of Exeter study, the research team examined trends in global air quality between 2010 and 2016, against a backdrop of efforts to improve air quality.
Investments in our future
"Cooperation across sectors and at different levels, urban, regional, national and international, is crucial," the researchers wrote. "Policies and investments supporting affordable and sustainable access to clean energy, cleaner transport and power generation, as well as energy-efficient housing and municipal waste management can reduce key sources of outdoor air pollution."
Policies and investments supporting cleaner transport, energy-efficient homes, power generation, industry and better municipal waste management would reduce key sources of outdoor air pollution, the researchers said.
Lockdowns in the wake of the COVID-19 pandemic sent air pollution levels plummeting around the world, because of reduced factory output and car use. The new global scenario gave policy-makers an opportunity to see how effective addressing air pollution would be, according to Dr Maria Neira, WHO Director, Public Health, Environmental and Social Determinants of Health.
What is the World Economic Forum doing to manage emerging risks from COVID-19?
The first global pandemic in more than 100 years, COVID-19 has spread throughout the world at an unprecedented speed. At the time of writing, 4.5 million cases have been confirmed and more than 300,000 people have died due to the virus.
As countries seek to recover, some of the more long-term economic, business, environmental, societal and technological challenges and opportunities are just beginning to become visible.
To help all stakeholders – communities, governments, businesses and individuals understand the emerging risks and follow-on effects generated by the impact of the coronavirus pandemic, the World Economic Forum, in collaboration with Marsh and McLennan and Zurich Insurance Group, has launched its COVID-19 Risks Outlook: A Preliminary Mapping and its Implications - a companion for decision-makers, building on the Forum's annual Global Risks Report.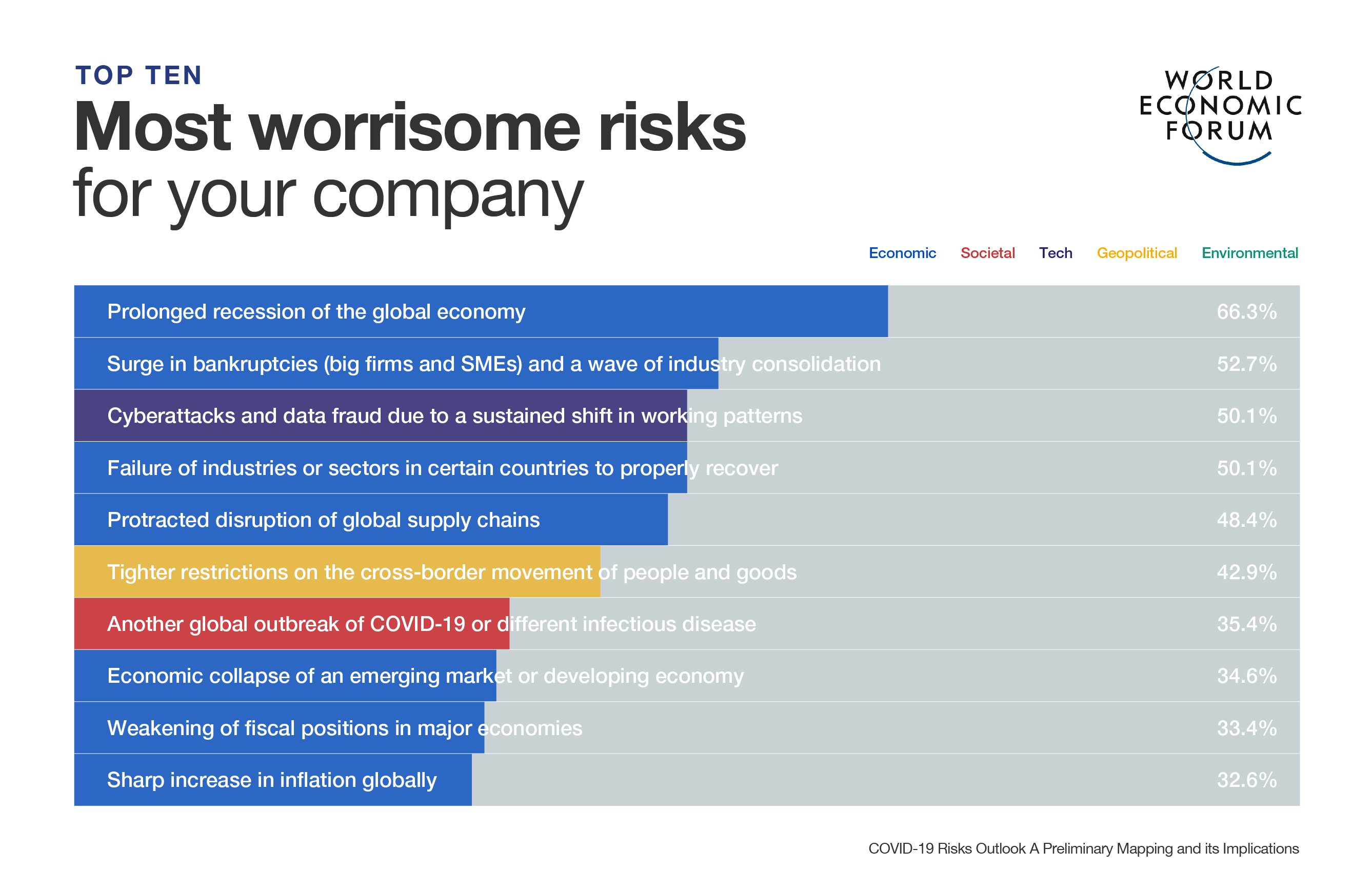 "No matter what, we have to tackle the causes," Neira said in an interview. "During the confinement, in many countries, during that period, it was like a laboratory. Take the example of New Delhi – they were so happy to see a blue sky that for many years they couldn't see. And the levels of air quality were so good that it was something absolutely exceptional for them."
She said governments need to focus on a "healthy and green recovery" as they undertake stimulus packages to bolster their economies in the wake of the pandemic.
This underscores the importance of moving toward cleaner and more sustainable sources of energy, stopping paying subsidies for fossil fuels, as well as improving public transport in cities, she said.
What's the World Economic Forum doing about the transition to clean energy?
Moving to clean energy is key to combating climate change, yet in the past five years, the energy transition has stagnated.
Energy consumption and production contribute to two-thirds of global emissions, and 81% of the global energy system is still based on fossil fuels, the same percentage as 30 years ago. Plus, improvements in the energy intensity of the global economy (the amount of energy used per unit of economic activity) are slowing. In 2018 energy intensity improved by 1.2%, the slowest rate since 2010.
Effective policies, private-sector action and public-private cooperation are needed to create a more inclusive, sustainable, affordable and secure global energy system.
Benchmarking progress is essential to a successful transition. The World Economic Forum's Energy Transition Index, which ranks 115 economies on how well they balance energy security and access with environmental sustainability and affordability, shows that the biggest challenge facing energy transition is the lack of readiness among the world's largest emitters, including US, China, India and Russia. The 10 countries that score the highest in terms of readiness account for only 2.6% of global annual emissions.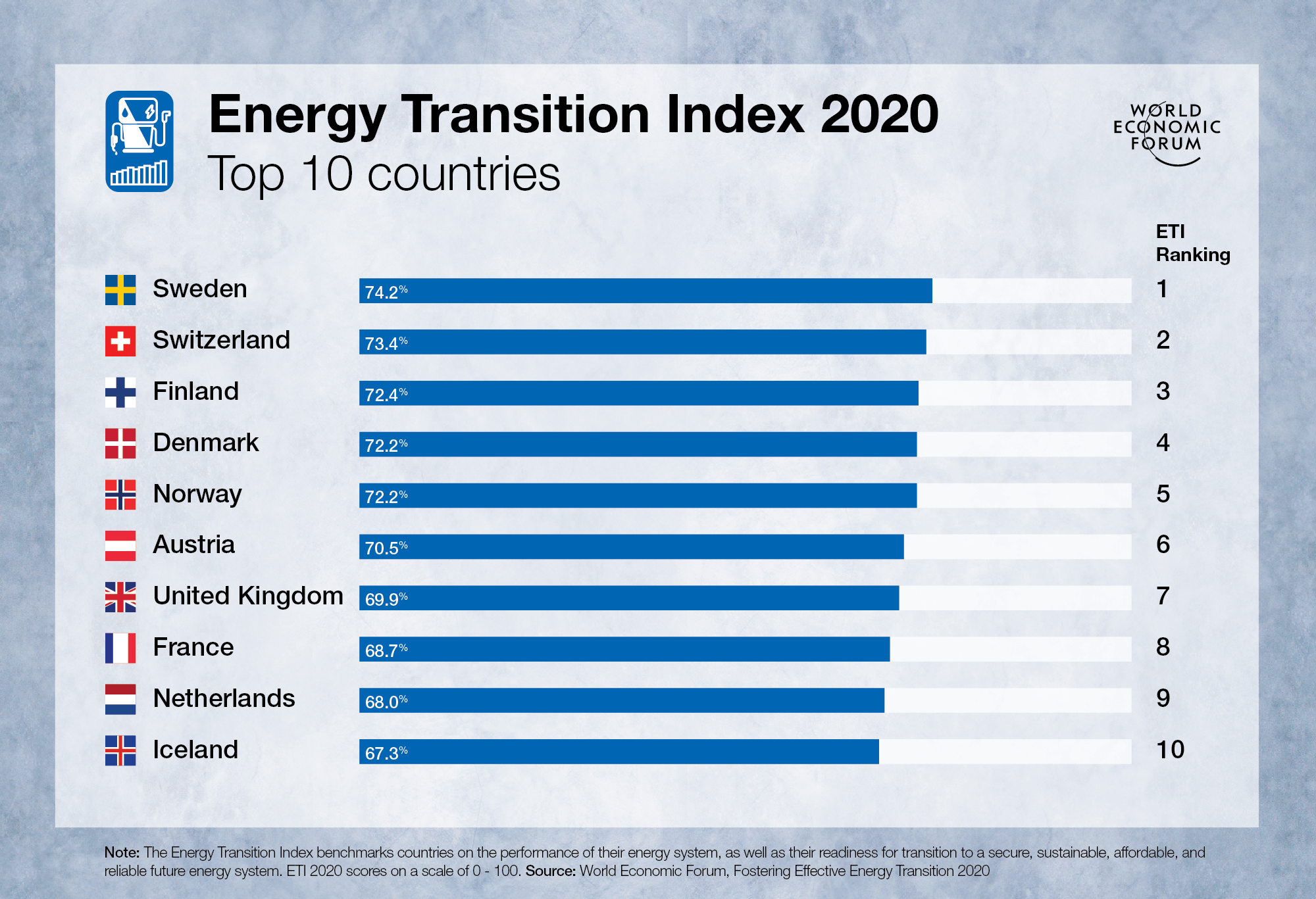 Additionally, the Mission Possible Platform (MPP) is working to assemble public and private partners to further the industry transition to set heavy industry and mobility sectors on the pathway towards net-zero emissions. MPP is an initiative created by the World Economic Forum and the Energy Transitions Commission.
Is your organisation interested in working with the World Economic Forum? Find out more here.