The challenges of today cannot be solved using yesterday's solutions.
Our recovery must be based on full-value creation - which is where the system value approach comes in.
Through this lens, sustainable development can be linked with decarbonization efforts paving the way for a net zero economy.
The world today is facing a series of convergent global emergencies linked to the economy, the environment and society.
The new challenges, and the speed of the necessary changes, cannot be overcome by using solutions from the past. Business as usual is no longer an option; it exists merely as evidence that our current systems have failed in delivering economic, social and environmental sustainability.
Net zero economy: investing in the future we want
It is time to ask ourselves as a society whether the investments that help economic recovery will create value in the long term. There may be many possibilities to stimulate the economy and job growth, but there is only one way to do so while improving the environment, and that is with low-carbon infrastructure.
Clean technologies lead the concept of green recovery as an exemplary investment to generate immediate and future value, capable of creating a more resilient economy while fighting global warming. Indeed, the decision whether to invest in low-carbon technologies or not is the decision whether to invest in the future or in the past.
Thanks to lessons learned from past crises, consensus is growing on the need to build a recovery based on full value creation. In fact, the traditional focus on cost is ineffective in finding solutions to the interconnected problems of the present.
Solutions to the new challenges need new system
If we want prosperity beyond cost criteria, industries should be valued for their ability to create wealth without negative externalities.
However, real change towards a net zero economy requires a systems thinking lens. That is why ACCIONA has collaborated with the World Economic Forum's Electricity Industry Action Group to create the new system value framework.
This framework more holistically evaluates the economic, environmental, social and technical outcomes of potential energy solutions across markets. The framework aims to shift political and commercial focus beyond cost to include value and accelerate the transition to a net zero economy.
Just a few years ago, setting a horizon of carbon neutrality was a utopian ideal. Today, countries and companies are demanding a fully decarbonized horizon, something for which ACCIONA has always advocated.
If we take as an example what happened with renewables, the energy sector's main organizations have underestimated their growth rate for years. This is one of the many signs for optimism. Now more than ever, the mission is possible – and all we have to do is to escalate technologies that already exist.
Recognizing the full value that low-carbon infrastructure brings to the economy will accelerate that low-carbon or net zero economy future. The context of each country or region differs due to a combination of different energy transition 'starting points', different levels of ambition, and the different dependencies on supply chains and fossil fuels.
Regardless of the geographic context, both 'addition markets' (those with a relevant growth in electricity demand) and 'substitution markets' (those with no growth in demand and with predominance of installed capacity of fossil origin) understand that carbon neutrality by 2050 is not negotiable, for the simple fact that nature does not understand climate inaction.
The close link between decarbonization and sustainable development
Analysis from the World Economic Forum, with support from Accenture, shows near-term recovery opportunities around renewables expansion across markets, regardless of where a country is in its own clean energy transition – from improving grid infrastructure in India, to onshore wind and solar expansion in the United States, to renewables increasingly powering the electrification of mobility, heating and industry in Europe.
In many countries, renewables and clean technologies offer a solution in the short term, as they can be quickly deployed, and can generate more investment and employment while advancing towards a sustainable and net zero economy.
As an example, South Africa's renewables sector is the largest in sub-Saharan Africa attracting over half of all clean energy investments from 2009 through 2018, with Foreign Direct Investment (FDI) attributed to 30% of South Africa's clean energy investments. Greater renewables deployments through FDI can ensure domestic electricity sources that do not face fuel supply chain impacts, decrease pollutant levels, and create numerous job opportunities, from manufacturing of local content to renewables construction.
What's the World Economic Forum doing about the transition to clean energy?
Moving to clean energy is key to combating climate change, yet in the past five years, the energy transition has stagnated.
Energy consumption and production contribute to two-thirds of global emissions, and 81% of the global energy system is still based on fossil fuels, the same percentage as 30 years ago. Plus, improvements in the energy intensity of the global economy (the amount of energy used per unit of economic activity) are slowing. In 2018 energy intensity improved by 1.2%, the slowest rate since 2010.
Effective policies, private-sector action and public-private cooperation are needed to create a more inclusive, sustainable, affordable and secure global energy system.
Benchmarking progress is essential to a successful transition. The World Economic Forum's Energy Transition Index, which ranks 115 economies on how well they balance energy security and access with environmental sustainability and affordability, shows that the biggest challenge facing energy transition is the lack of readiness among the world's largest emitters, including US, China, India and Russia. The 10 countries that score the highest in terms of readiness account for only 2.6% of global annual emissions.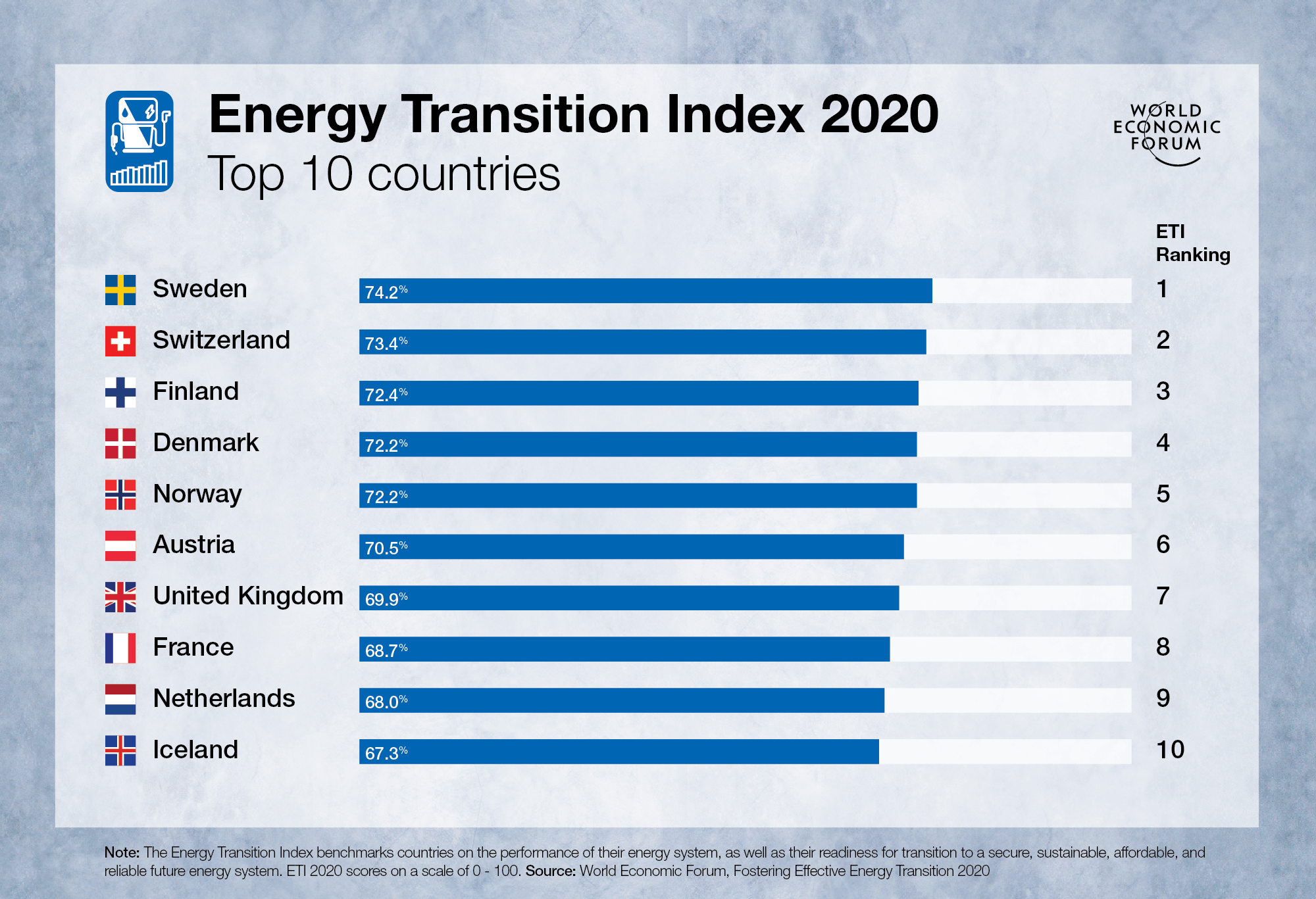 Additionally, the Mission Possible Platform (MPP) is working to assemble public and private partners to further the industry transition to set heavy industry and mobility sectors on the pathway towards net-zero emissions. MPP is an initiative created by the World Economic Forum and the Energy Transitions Commission.
Is your organisation interested in working with the World Economic Forum? Find out more here.
The energy transition pays for itself
In every country, in every context, investing in clean energy solutions far outweigh other options. In fact, the envisaged transformation to a net zero economy would effectively pay for itself, with every dollar spent bringing returns of between $3-8 from savings related to reduced externalities.
Crisis periods provide an opportunity to reflect on what we want to be when we emerge from them. In these moments in which models are redefined, it is important to remember that achieving a future state that respects the planet and people is more technologically achievable than ever today.