Low-income communities and communities of colour are far more vulnerable to infection, hospitalization and deaths from the coronavirus.
Climate change disproportionately affects communities that have historically faced injustice and exclusion.
This is an opportunity to forge new collaborations focussing on climate, pandemics and social justice holistically.
In January 2020, climate change took centre stage at Davos as one of the biggest global challenges facing business and governments alike. And indeed, climate disasters resulted in more than $175 billion in economic losses last year, leading to thousands of casualties and tens of millions displaced by raging wildfires, floods, and storms. But even that extraordinary toll seemed to recede into the background as 2020 progressed; the COVID-19 pandemic exacted a deadly toll around the world; and the brutality of structural inequality sparked a racial reckoning.
As each of these crises unfolded, it was natural to perceive them initially as a series of distinct challenges. But in fact, it was not a cascade of crises – it was a convergence of crises. These three forces – climate change, pandemic, social injustice – are proving to be deeply interconnected. The victims of one are disproportionately impacted by the others, and each makes the others' effects more intense. To truly solve any of these challenges, we cannot treat them in isolation. We must address these challenges holistically.
2020 has also shown us with sufficient evidence that the pandemic and social injustice are closely related. In the US, the Centers for Disease Control and Prevention reported recently that low-income communities and communities of colour are far more vulnerable to infection, hospitalization and deaths from the coronavirus.
Meanwhile, climate change makes the planet increasingly hospitable to the spread of infectious diseases. Under the business-as-usual scenario, the Earth's temperature is on track to rise more than 4.5°C. According to Morgan Stanley Research, that could mean up to 1 billion people (predominantly in Europe and North America) becoming newly exposed to infectious diseases, including malaria, yellow-fever, and dengue. Even if we achieve the goals of the Paris Accords and limit the temperature rise to 1.5°C, that danger may be only 500 million additional people at risk.
And, like the pandemic, climate change has shown that it too, disproportionately affects those communities that have historically faced injustice and exclusion. Low-income communities of colour in the US are on average five degrees hotter in the summer – and in some cases as much as 12 degrees hotter – than nearby wealthier, predominantly white neighbourhoods that have more trees, sidewalks, green spaces, and open areas.
According to Scientific American: "Air pollution and extreme heat are killing inner-city residents at a higher rate than almost all other causes." During the pandemic, health professionals have chronicled higher hospitalization and death rates from COVID-19 in areas suffering worse air pollution. Once again we see climate change, social injustice, and disease converging and exacerbating their collective impact.
To truly address any one of these challenges, we must seize the moment for a new type of systems thinking that takes a holistic approach.
Take, for example SELCO India's Light for Education Programme. This is the type of programme that gives me hope. In much of rural India, communities rely on kerosene lighting which is carbon intensive, emits harmful fumes, and whose light is too dim for effective work or study. Meanwhile, access to education and consistent school attendance is often a challenge.
Rather than addressing any one of these issues in isolation, SELCO (a solar energy social enterprise based in Bangalore, India) sought to address them as a system – reducing carbon emissions, increasing family incomes, and increasing access to education all at the same time. Through the "Light for Education" Programme, rural families receive LED lamps that use a pocket-size rechargeable solar-powered battery. The central solar charging station for the batteries, meanwhile, is intentionally located at the school, creating the incentive for families to send children to school to get the batteries recharged. As a result, not only do the communities receive clean, safe light at home to study and work, but the school-based charging stations encourage school attendance and improved education outcomes. Addressing only one silo and ignoring the rest can often be like pouring water on sand. But tending the whole system in this way is what can lead to lasting transformation.
Now more than ever, we need to shift our thinking on a micro as well as a global scale. One small way Morgan Stanley is trying to catalyze and accelerate this kind of transformation, is its new Sustainable Solutions Accelerator. The goal is to seek out breakthrough systemic thinkers focusing on global issues such as climate change, social justice and plastic waste at a systems level. Not only does this represent our commitment to help scale the solutions that drive positive, sustainable and systemic change, we believe it's the next frontier in sustainable thinking.
What is the World Economic Forum doing to manage emerging risks from COVID-19?
The first global pandemic in more than 100 years, COVID-19 has spread throughout the world at an unprecedented speed. At the time of writing, 4.5 million cases have been confirmed and more than 300,000 people have died due to the virus.
As countries seek to recover, some of the more long-term economic, business, environmental, societal and technological challenges and opportunities are just beginning to become visible.
To help all stakeholders – communities, governments, businesses and individuals understand the emerging risks and follow-on effects generated by the impact of the coronavirus pandemic, the World Economic Forum, in collaboration with Marsh and McLennan and Zurich Insurance Group, has launched its COVID-19 Risks Outlook: A Preliminary Mapping and its Implications - a companion for decision-makers, building on the Forum's annual Global Risks Report.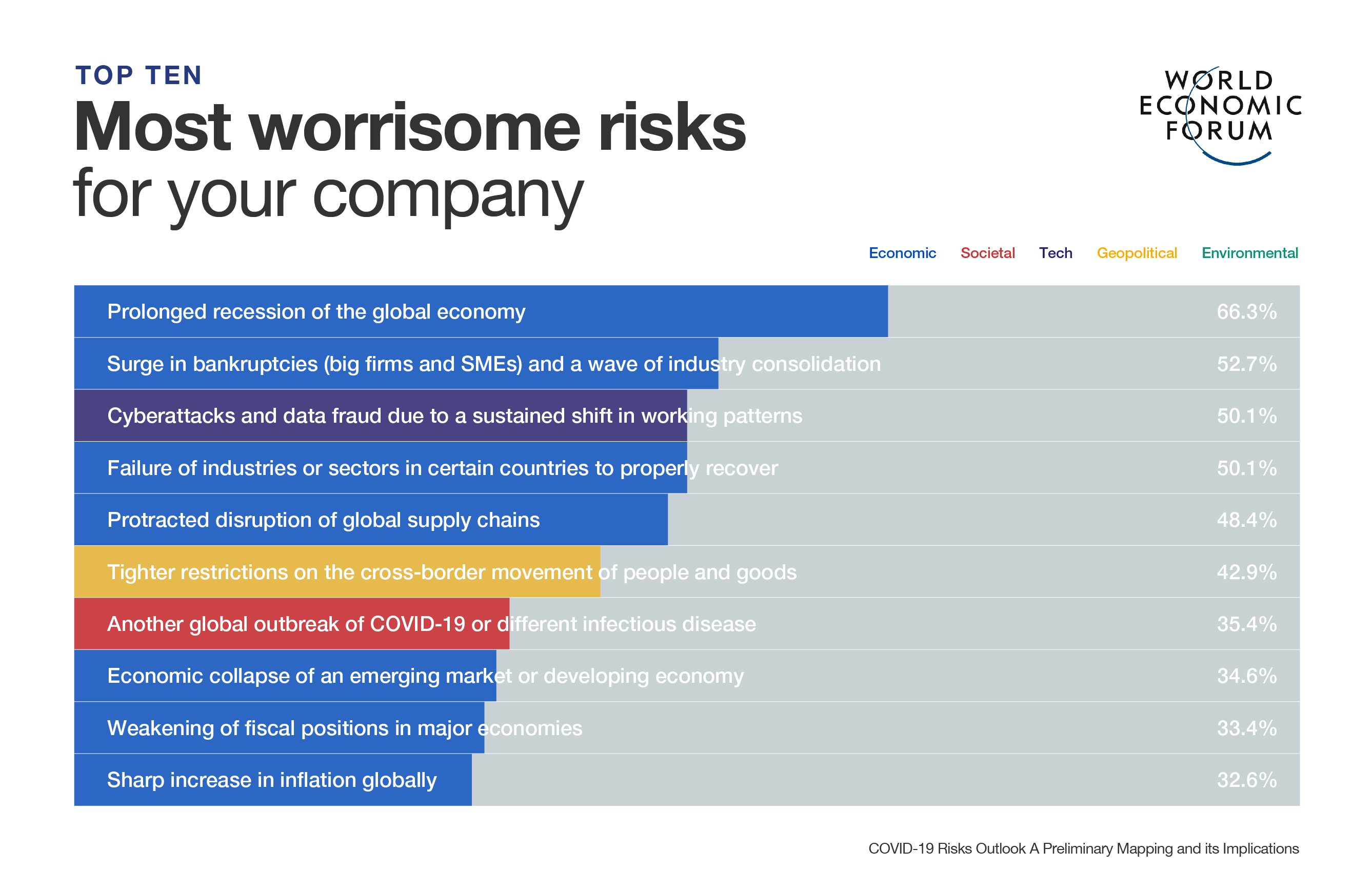 The good news is that sustainable investing has come of age to help support these sorts of systemic innovations. Consumers and investors alike are increasingly focusing on sustainability. Sustainable investing – once regarded as a niche – is now fully mainstream, accounting for $1 out of every $3 under professional management, or $30 trillion globally. More strikingly, in 2019 and 2020, sustainable investing has outperformed traditional investing, delivering both higher returns and lower downside volatility throughout the bull markets, bear markets, and extraordinarily volatile markets alike.
And so, even as we struggle to address the convergent crises of 2020, this may be a unique opportunity to forge new collaborations focusing on climate, pandemics and social justice together and holistically. This may be the time to view the world not through isolated microscopes; but rather, through a 360 degree lens, so we can drive for systemic solutions.