A green and blue post-COVID recovery will be limited as long as governments continue to subsidise sectors that damage the environment.
Hopes of keeping global warming in check, saving our wild places and curbing future pandemics may rest on a global reset of spending priorities.
2021 is a critical year for the international community to agree new targets and plans for the coming decade and start to make peace with nature.
Countries around the world have pledged to build back better from the COVID-19 pandemic by allocating funds for cleaner energy, greener cities and expanded marine protected areas. This renewed focus on easing pressures on nature through a green and blue recovery has breathed new life into upcoming negotiations on biodiversity loss, land degradation, ocean conservation and climate change.
And yet as we prepare for the hard work of 2021 and beyond, we must be realistic about the limitations of a clean and resilient rebound when many governments and investors continue to pour much more into sectors that damage the environment than into initiatives to protect it.
As Benjamin Franklin said nearly 300 years ago: "Well done is better than well said."
The whole breadth of government activity matters to the future of our planet. To truly build back better after 2020, we need to scale back harmful subsidies and financial flows to a broad range of sectors – including agriculture, transportation, forestry, fisheries and energy – that now vastly outpace support for sustainability and conservation.
Without such a shift of spending away from activities that pollute and degrade our planet, the hoped-for post-pandemic green stimulus will have a fraction of its intended impact on the environment. Keeping global warming in check, saving our remaining wild places and curbing future pandemics will require a global reset of spending and investment priorities.
For those who argue it is more urgent for COVID-19 rescue packages to create jobs than to safeguard the environment, I would say that it is possible to balance the needs of the population with the needs of the planet.
The right kind of recovery package can offer employment as well as environmental promise, if governments pair reform of damaging subsidies with their support for sustainable industries and nature-based solutions such as reforestation. As was made clear in the UN Environment Programme's 2020 Emissions Gap report, coupling subsidy reform with support for zero-emissions innovations can allow governments to achieve both their economic and their environmental goals.
Slow progress
A decade ago, the 194 signatories to the Aichi Biodiversity Targets pledged that they would have "eliminated, phased out or reformed" subsidies and other incentives for activities harmful to nature by 2020. However, progress in this area has been exceedingly slow.
Before the pandemic, subsidies to high-carbon infrastructure, the fossil fuel industry, and commercial farming and fishing vastly outweighed those to green technology and environmental restoration.
Such imbalances have consequences.
Take agriculture and fisheries. According to a study published in Science last year, even if fossil fuel emissions stopped cold tomorrow, global food systems would still make it impossible to meet the Paris Agreement goal of keeping global warming to 1.5˚C, barring "rapid and ambitious" changes to how humanity feeds itself.
These same food systems receive some $700 billion in funding each year to maintain the status quo, according to the Food and Land Use Coalition. In its analysis, the group said governments would do far better to redirect that money toward nature- and climate-friendly agriculture and fishing, along with programmes that protect and pay for nature.
In 2019, the International Monetary Fund (IMF) estimated that global energy subsidies totalled $5.2 trillion. That amounts to 6.5% of the world's gross domestic product in 2017 and was up from $4.7 trillion just two years previously. If fuel prices had been set entirely by the market in 2015, the IMF said, carbon emissions would be 28% lower.
Recent polls show that the environmental catastrophes of the past 12 months, from wildfires and polar melting to a record hurricane season and, yes, the pandemic, have raised public awareness of humanity's impact on the natural world. The pandemic has also put global funding imbalances back in the spotlight.
What is the World Economic Forum doing to manage emerging risks from COVID-19?
The first global pandemic in more than 100 years, COVID-19 has spread throughout the world at an unprecedented speed. At the time of writing, 4.5 million cases have been confirmed and more than 300,000 people have died due to the virus.
As countries seek to recover, some of the more long-term economic, business, environmental, societal and technological challenges and opportunities are just beginning to become visible.
To help all stakeholders – communities, governments, businesses and individuals understand the emerging risks and follow-on effects generated by the impact of the coronavirus pandemic, the World Economic Forum, in collaboration with Marsh and McLennan and Zurich Insurance Group, has launched its COVID-19 Risks Outlook: A Preliminary Mapping and its Implications - a companion for decision-makers, building on the Forum's annual Global Risks Report.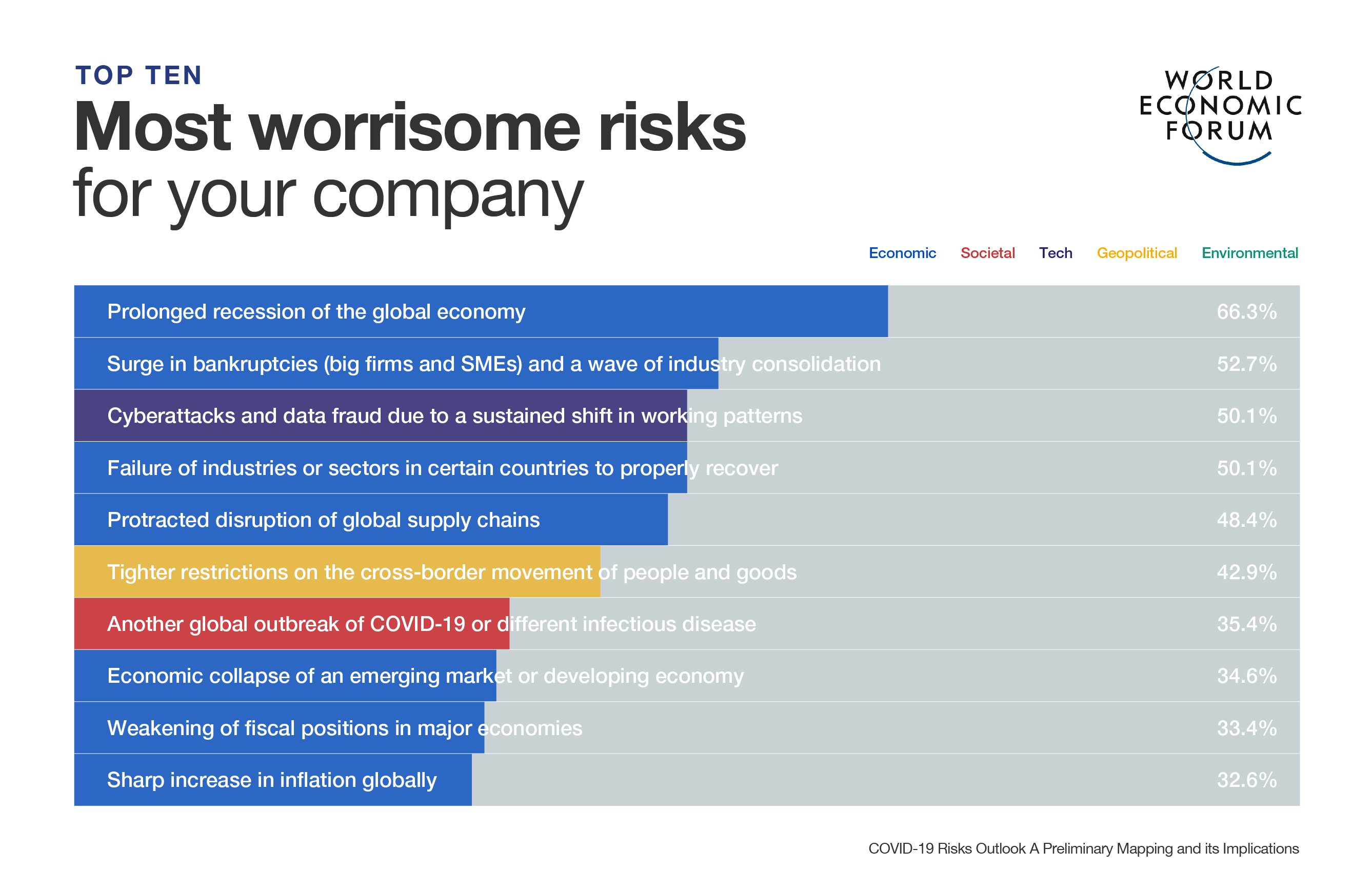 Global bodies from the UN to the WTO have issued calls for subsidy reform to help address over-fishing, the climate crisis and other emergencies. Last month, UN Secretary-General António Guterres gave a stark address, in which he said humanity's "war against nature" equated to an act of suicide, given the risks of a prolonged conflict.
Humanity endured fire, flood and pestilence last year as punishment for its abuse of nature, and many countries are presently facing record levels of COVID-19 infections. Thanks to the record-fast development of safe and effective vaccines, however, we may be within sight of a return to normal life.
The critical question now is whether the harsh lessons of 2020 have made us wise enough to stop funding activities that harm the planet and start funding those that will heal it.