The largest impact of climate change is that it could wipe off up to 18% of GDP off the worldwide economy by 2050 if global temperatures rise by 3.2°C, the Swiss Re Institute warns.
Forecast based on temperature increases staying on the current trajectory and the Paris Agreement and net-zero emissions targets not being met.
Figure could rise to 18% of GDP by mid-century if temperatures increase by 3.2°C in the most severe scenario.
Climate change is a systemic risk that must be addressed now, warns Swiss Re.
The report The economics of climate change: no action not an option, published by the Swiss Re Institute, said the forecast about the impact of climate change was based on temperature increases staying on the current trajectory and Paris Agreement and net-zero emission targets not being met.
However, it also warns that this figure could rise significantly to 18% of gross domestic product (GDP) by mid-century if no action is taken and temperatures rise by 3.2°C.
Impact of Climate Change
The Swiss Re Institute's Climate Economics Index stress tests how global warming will affect 48 countries – representing 90% of the world economy – and ranks their climate resilience.
It lays out the expected impact on global GDP by 2050 under four different scenarios compared to a world without climate change. These are:
4% if Paris Agreement targets are met (a well-below 2°C increase)
11% if further mitigating actions are taken (2°C increase)
14% if some mitigating actions are taken (2.6°C increase)
18% if no mitigating actions are taken (3.2°C increase).
The impact of climate change has been forecasted to be the hardest hit for Asian economies, with a 5.5% hit to GDP in the best-case scenario, and 26.5% hit in a severe scenario.
However, there were significant regional variations in the data. Advanced Asian economies are predicted to see GDP losses of 3.3% in case of a below-2°C rise and 15.4% in a severe scenario, while ASEAN countries are forecast to see drops of 4.2% and 37.4% respectively.
The Middle East & Africa, meanwhile, would see a drop of 4.7% if temperature rises stay below 2°C and 27.6°C in the severe case scenario, the report added.
Many Asian economies most vulnerable to physical risks
Data showed that economies in South and South-east Asia were the most susceptible to the physical risks associated with global warming.
However, such nations also have the most to gain from global efforts to reduce temperature rises, the report added.
Many advanced economies in the northern hemisphere were comparatively less vulnerable, being less exposed to adverse weather patterns linked to global warming and also better resourced to cope with the impact of climate change, the report said.
Climate change 'most impactful risk' facing planet
The report warned that billions across the world were at a heightened risk of missing out on future economic opportunities and the benefits of a resilient global community.
What's the World Economic Forum doing about the transition to clean energy?
Moving to clean energy is key to combating climate change, yet in the past five years, the energy transition has stagnated.
Energy consumption and production contribute to two-thirds of global emissions, and 81% of the global energy system is still based on fossil fuels, the same percentage as 30 years ago. Plus, improvements in the energy intensity of the global economy (the amount of energy used per unit of economic activity) are slowing. In 2018 energy intensity improved by 1.2%, the slowest rate since 2010.
Effective policies, private-sector action and public-private cooperation are needed to create a more inclusive, sustainable, affordable and secure global energy system.
Benchmarking progress is essential to a successful transition. The World Economic Forum's Energy Transition Index, which ranks 115 economies on how well they balance energy security and access with environmental sustainability and affordability, shows that the biggest challenge facing energy transition is the lack of readiness among the world's largest emitters, including US, China, India and Russia. The 10 countries that score the highest in terms of readiness account for only 2.6% of global annual emissions.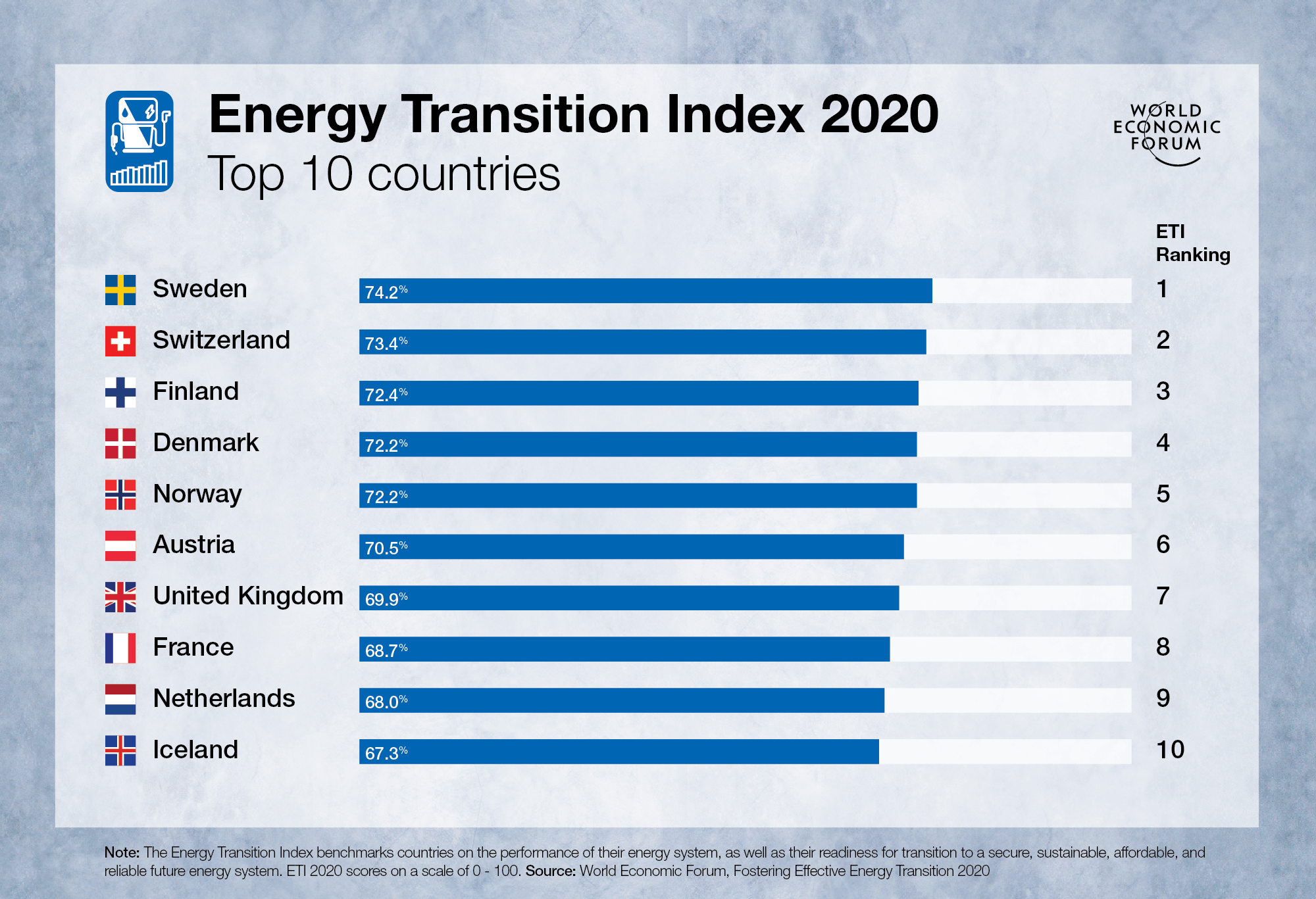 Additionally, the Mission Possible Platform (MPP) is working to assemble public and private partners to further the industry transition to set heavy industry and mobility sectors on the pathway towards net-zero emissions. MPP is an initiative created by the World Economic Forum and the Energy Transitions Commission.
Is your organisation interested in working with the World Economic Forum? Find out more here.
Mitigating the impact of climate change
"By 2050, the world population will grow to almost 10 billion people, especially in regions most impacted by climate change. So we must act now to mitigate the risks and to reach net-zero targets."
The Institute's research concludes that the impact of climate change can be lessened if more decisive action is taken to meet the targets of the Paris Agreement. This will require cooperation between the public and private sectors to speed up the transition to net zero, it says.