Demand for gas is soaring as electricity producers shift away from coal.
The global energy supply chain is stretched almost to breaking point and every new disruption is creating problems.
This is partly the result of decarbonizing electricity production and shows how important it is that the ongoing energy transition is handled well.
As we head into the final quarter of 2021, a global energy crisis is sending shockwaves through economies and industry sectors around the world. In addition to the immediate shortages and price hikes, this crisis could also foreshadow the fallout from a badly handled energy transition.
Energy is vital to almost every aspect of modern life. From keeping the wheels of industry turning to powering the internet, heating and lighting people's homes, to keeping transport moving, so much of what we rely on is energy-dependent. Energy shocks are therefore likely to ripple through an economy and be felt by almost everyone. When the price of gas and electricity goes up, so too will the prices of many other things.
Depleted supplies
"The supply chains are so severely depleted, the system cannot accommodate any type of disruption," he said.
Currie expects energy prices to remain high and to go even higher as winter approaches in the northern hemisphere. In Currie's view, rising energy prices could help to accelerate the energy transition, pointing out that higher prices make all forms of renewable energy more commercially attractive.
A stretched energy system
"The complexity of the energy transition is a fundamental issue for society with implications for all sectors and dimensions of life," he says. "It is more than 'let's do better, let's be more efficient' – that is important, of course. But, there is a need to rethink the whole paradigm of how we consume (demand) and produce energy (supply)."
"The energy system is interconnected and stretched," he says. "So, any anomaly that comes along can bring disruption with impact across the world."
Bocca suggests that people should think differently about their relationship with energy, moving away from an abundance-of-energy mindset toward one that emphasises that it's a precious and constrained resource.
Scaling-up energy efficiencies
In homes, offices and businesses all over the world, energy is referred to as a utility. Push a button, flick a switch and it is there, ready to be used. But the complex infrastructure that connects the humble lightswitch, or even a not-so-humble wind turbine – to the rest of the electricity grid goes unseen.
For consumers, both domestic and industrial, this can lead to complacency around using energy, especially when the costly externalities of energy production and consumption are not embedded in the cost.
"It is complex," Bocca agrees. "But it's not mystical. There are things you can do ... what is fundamental is that our behaviour has to change."
Efficiencies can emerge from simple acts, such as using energy-efficient domestic light bulbs. It might feel small, but when millions of people make such a change, there can be a powerful multiplier effect.
And efficiencies can also emerge from more fundamental shifts in the way we approach energy consumption in cities and industrial clusters. "The efficiency that you can get from this kind of systemic approach is quite dramatic," Bocca says.
Indeed, the World Economic Forum, alongside Accenture, has recently launched a Toolbox of Solutions to accelerate decarbonization in cities. The digital platform, part of the Net-Zero Carbon Cities programme, focuses on practical solutions that address clean electrification, efficiency and smart infrastructure.
New energy business models
From developing energy-efficient products to developing whole new fuel systems, like hydrogen and the infrastructure that goes with it, reconfiguring the global energy sector will require wide-reaching cooperation. That cooperation will sometimes be between businesses that might ordinarily see one another as competitors. The jealous guarding of intellectual property and feeling a sense of ownership over customers may have to give way to a more holistic outlook, based on the idea of being part of an energy ecosystem.
"We talk a lot about technology and innovation, which is important. But this is also about business model innovation," Bocca says. Businesses need to be able to stay commercially viable and compliant, while also keeping up with change.
Regulators and policymakers must act to de-risk the new commercial landscape, he believes, to foster investment in new partnerships, new technologies and new services.
Powering energy literacy
The World Economic Forum's Energy Transition Index (ETI) has been tracking the progress toward tackling energy-related greenhouse gas emissions for 10 years. The top 10 ETI countries account for around 2% of the world's population and approximately 3% of energy-related CO2 emissions, according to the index.
Larger, more populous – and more polluting – countries will need to make more progress if the overall picture is to improve. But attempts at moving too suddenly can cause unrest and resistance to change.
If all stakeholders, from consumers and regulators to academia, non-governmental organizations and business leaders, become more energy literate, they may come to appreciate how they can bring about beneficial changes through the decisions they make.
The energy transition of the next 20 years is going to be complex, costly and - at times – very difficult to implement. Let's not hide behind the challenge, let's work together and solve it, Bocca says.
What's the World Economic Forum doing about the transition to clean energy?
Moving to clean energy is key to combating climate change, yet in the past five years, the energy transition has stagnated.
Energy consumption and production contribute to two-thirds of global emissions, and 81% of the global energy system is still based on fossil fuels, the same percentage as 30 years ago. Plus, improvements in the energy intensity of the global economy (the amount of energy used per unit of economic activity) are slowing. In 2018 energy intensity improved by 1.2%, the slowest rate since 2010.
Effective policies, private-sector action and public-private cooperation are needed to create a more inclusive, sustainable, affordable and secure global energy system.
Benchmarking progress is essential to a successful transition. The World Economic Forum's Energy Transition Index, which ranks 115 economies on how well they balance energy security and access with environmental sustainability and affordability, shows that the biggest challenge facing energy transition is the lack of readiness among the world's largest emitters, including US, China, India and Russia. The 10 countries that score the highest in terms of readiness account for only 2.6% of global annual emissions.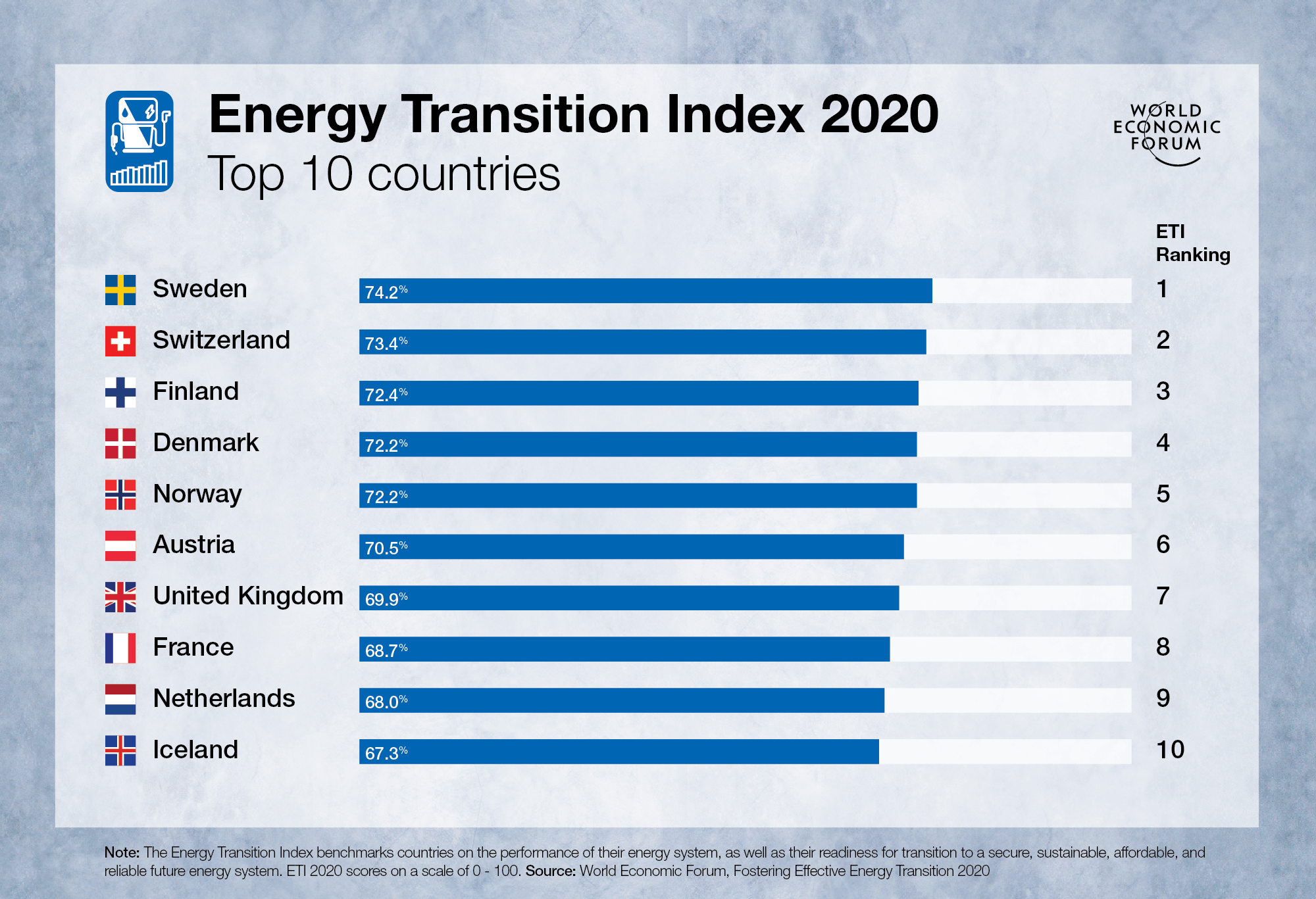 Additionally, the Mission Possible Platform (MPP) is working to assemble public and private partners to further the industry transition to set heavy industry and mobility sectors on the pathway towards net-zero emissions. MPP is an initiative created by the World Economic Forum and the Energy Transitions Commission.
Is your organisation interested in working with the World Economic Forum? Find out more here.