Global carbon-pricing revenues reach record high - plus other top stories about global energy
This week's round-up brings you the latest developments in the global energy sector.
Top energy news: Global carbon-pricing revenues reach record-high $95 billion; Annual renewable-energy capacity to increase by a third; Russia's pipeline natural gas exports to the European Union fell nearly 15% in May.
For more on the World Economic Forum's work in the energy space, visit the Centre for Energy and Materials.
1. Rise in carbon-pricing revenues
The 10th edition of the bank's annual State and Trends of Carbon Pricing report finds direct carbon-pricing instruments cover 23% of global greenhouse gas emissions, compared to just 7% a decade ago.
As the name suggests, a carbon tax adds a set fee that must be paid on each unit of carbon dioxide emissions.
ETS schemes are slightly different, as they limit the level of emissions a company can generate, enabling those with low emissions to sell their surplus allowance to heavy-emitting firms, in effect putting a tradable unit price on pollution.
Over the long term, the scheme should act as an incentive to reduce emissions and therefore costs, while generating funds which can help finance decarbonization efforts.
"Carbon pricing can be an effective way to incorporate the costs of climate change into economic decision-making, thereby incentivizing climate action," said Jennifer Sara, Global Director for Climate Change at the World Bank.
"The good news from this report is that even in difficult economic times, governments are prioritizing direct carbon-pricing policies to reduce emissions. But to really drive change at the scale needed, we will need to see big advances both in terms of coverage and price," she said.
Uptake of carbon taxes and ETS initiatives are increasing in emerging markets, with countries like China, Malaysia, Viet Nam working to implement new schemes. However, high-income countries dominate when it comes to adoption of these instruments.
2. Increase in renewable energy capacity
The International Energy Agency is forecasting global additions of renewable power capacity of as much as a third in 2023.
The IEA announced on 1 June that stronger policy and also concerns around energy security are combining to push increased deployment of clean energy.
Some 107 gigawatts are expected to be added this year - equivalent to more than the total power capacity of Germany and Spain combined, IEA Executive Director Fatih Birol said, with solar and wind driving much of this expansion.
Next year total renewable electricity capacity is expected to exceed the total power output of the US and China combined.
3. News in brief: More energy stories from around the world
Import tax on solar panels could be cut by half in India to help bridge the gap in a shortfall in local supplies. It could be reduced from 40% to 20% under the plans.
A new joint venture between EDF and Simply Blue Group to develop two wind farms off the Irish coast could generate enough electricity to power two million homes.
Investment in battery storage projects in Texas is booming, reports Reuters, with returns of around 20% helping drive interest.
Ukraine has announced it will increase its consumer energy tariffs to strengthen its energy system and to build resilience ahead of next winter. The country's energy system has been hit by months of Russian air strikes.
South Korea and the European Union have agreed on a new partnership to work together on the green transition, in areas from sustainable finance to energy efficiency, and carbon capture, utilization and storage.
What's the World Economic Forum doing about the transition to clean energy?
Moving to clean energy is key to combating climate change, yet in the past five years, the energy transition has stagnated.
Energy consumption and production contribute to two-thirds of global emissions, and 81% of the global energy system is still based on fossil fuels, the same percentage as 30 years ago. Plus, improvements in the energy intensity of the global economy (the amount of energy used per unit of economic activity) are slowing. In 2018 energy intensity improved by 1.2%, the slowest rate since 2010.
Effective policies, private-sector action and public-private cooperation are needed to create a more inclusive, sustainable, affordable and secure global energy system.
Benchmarking progress is essential to a successful transition. The World Economic Forum's Energy Transition Index, which ranks 115 economies on how well they balance energy security and access with environmental sustainability and affordability, shows that the biggest challenge facing energy transition is the lack of readiness among the world's largest emitters, including US, China, India and Russia. The 10 countries that score the highest in terms of readiness account for only 2.6% of global annual emissions.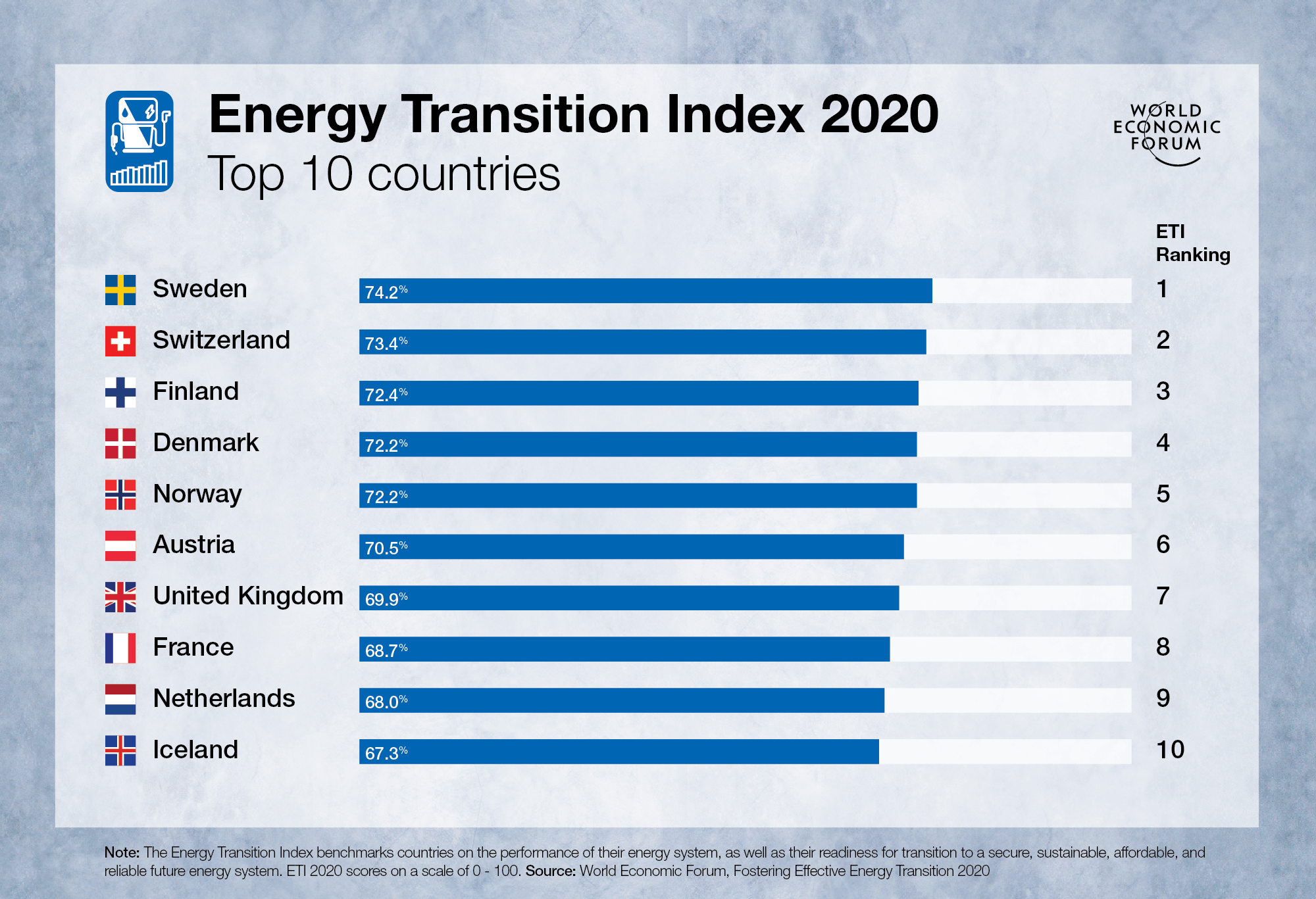 Additionally, the Mission Possible Platform (MPP) is working to assemble public and private partners to further the industry transition to set heavy industry and mobility sectors on the pathway towards net-zero emissions. MPP is an initiative created by the World Economic Forum and the Energy Transitions Commission.
Is your organisation interested in working with the World Economic Forum? Find out more here.
4. More on energy from Agenda
Scientists have developed a new - potentially more environmentally friendly - method to generate ammonia, a key ingredient in fertilizers and also a potential low-carbon fuel. Find out about the process, developed at Stanford, here.
Asia's green economy could have a transformative effect on the world in decades ahead, Ravindra Ngo, founder of the Asian Network, writes. To do so, stakeholder collaboration and the use of technology and innovation will be central.
Critical minerals are vital for much modern technology, particularly for electric vehicles, but a supply-demand mismatch is causing issues. At least five areas require urgent attention, write the authors.
To learn more about the work of the Energy, Materials, Infrastructure Platform, contact Ella Yutong Lin: ellayutong.lin@weforum.org