How do you increase your solar energy output when you need all your land for agriculture and for housing? Answer: take to the water. That's just what they are doing in Japan.
The world's first floating solar plant was built in Japan, in Aichi Prefecture in central Honshu. The country's many inland lakes and reservoirs are now home to 73 of the world's 100 largest floating solar plants and account for half of those plants' 246 megawatts of solar capacity.
Hyogo Prefecture in southern Honshu has almost 40,000 lakes and already hosts nearly half the floating solar capacity of the world's 100 largest plants. Many plants are small scale, helping the region to kick-start the move to distributed local power generation which the World Economic Forum has identified as the key to transforming the world's power supply.
What's the World Economic Forum doing about the transition to clean energy?
Moving to clean energy is key to combating climate change, yet in the past five years, the energy transition has stagnated.
Energy consumption and production contribute to two-thirds of global emissions, and 81% of the global energy system is still based on fossil fuels, the same percentage as 30 years ago. Plus, improvements in the energy intensity of the global economy (the amount of energy used per unit of economic activity) are slowing. In 2018 energy intensity improved by 1.2%, the slowest rate since 2010.
Effective policies, private-sector action and public-private cooperation are needed to create a more inclusive, sustainable, affordable and secure global energy system.
Benchmarking progress is essential to a successful transition. The World Economic Forum's Energy Transition Index, which ranks 115 economies on how well they balance energy security and access with environmental sustainability and affordability, shows that the biggest challenge facing energy transition is the lack of readiness among the world's largest emitters, including US, China, India and Russia. The 10 countries that score the highest in terms of readiness account for only 2.6% of global annual emissions.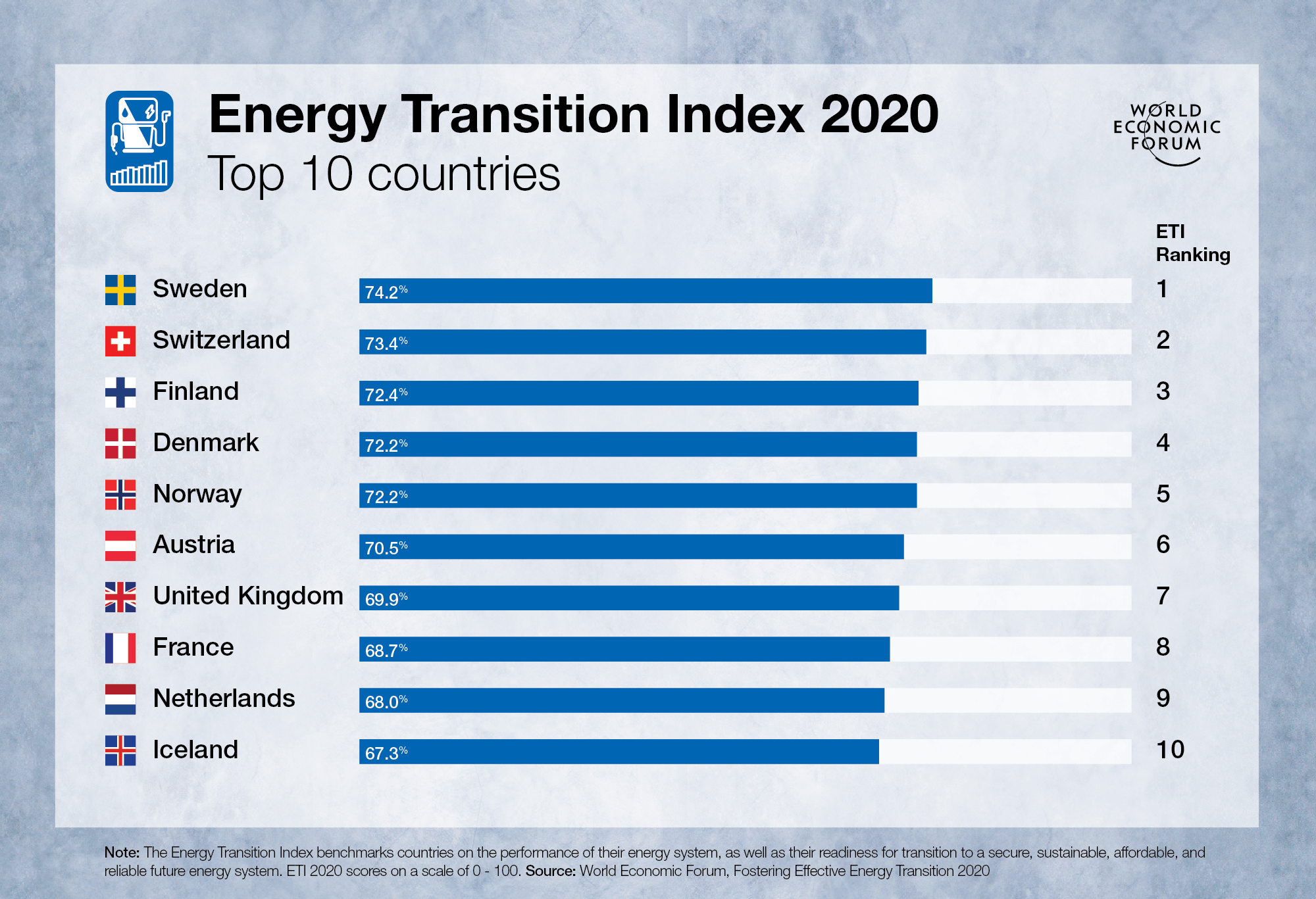 Additionally, the Mission Possible Platform (MPP) is working to assemble public and private partners to further the industry transition to set heavy industry and mobility sectors on the pathway towards net-zero emissions. MPP is an initiative created by the World Economic Forum and the Energy Transitions Commission.
Is your organisation interested in working with the World Economic Forum? Find out more here.
The biggest Japanese floating solar plant sits behind the Yamakura Dam at Ichihara in Chiba Prefecture. It covers 18 hectares, can power nearly 5,000 homes and is saving more than 8,000 tonnes of CO2 a year.
Floating solar is particularly well suited to Asia, where land is scarce but there are many hydroelectric dams with existing transmission infrastructure. China has just connected the world's biggest floating solar plant at Anhui, which will generate almost 78,000 megawatts in its first year, enough to power 21,000 homes.
But Anhui's record may not stand for very long. Next year, South Korea is due to complete what it says will become the world's largest floating solar plant, delivering 102.5 megawatts, capable of powering 35,000 homes. Singapore has built an offshore floating solar power plant in the Strait of Johor and Thailand plans 16 floating solar projects on nine hydropower dam reservoirs.
The world's top 10 floating solar plants
The technology is relatively new. The first patents were taken out in 2008 and its proponents say floating solar is up to 16% more efficient than land-based systems. As well as freeing up scarce land, floating solar panels also stop the growth of algae, which can harm fish stocks and slow the rate of evaporation from reservoirs.
World floating solar output grew 100-fold from 2014 to 2018. It could soon provide more power than conventional land-based systems. The pace is picking up. India recently announced it plans to create 10 gigawatts of floating solar capacity.
Although its proponents say floating solar has massive potential, critics worry it may harm marine ecosystems by blocking sunlight. They also point to its vulnerability to bad weather. In 2017, a typhoon did considerable damage to an installation near Osaka.
On the up side, floating solar linked to hydroelectric plants has the potential to maintain power supplies when water levels drop. Experts say that it works well where power grids are weak. They think sub-Saharan Africa could be the next big beneficiary of the technology.