A majority of companies expect better sustainability performance will increase revenue.
Banks will play a critical role in supporting the transition to net zero carbon emissions.
Low borrowing costs create an opportunity for green investments.
Companies have proven remarkably resilient in weathering the turmoil brought by COVID-19. While business leaders find new ways of working to cope with the disruption to human lives, a deeper change is underway that affects all life on this planet. Both factors will reshape business.
I have been struck by our customers' desire to use the COVID-19 crisis to reimagine how they operate. Some of this reimagining is what you might describe as pragmatic; reviewing real estate, automation opportunities and evolving customer needs. Some of it goes much deeper. HSBC's new Navigator research shows that 86% of firms expect enhanced sustainability performance will increase revenues. As a result, three-quarters of the 10,000 companies surveyed have adopted environmental, social and governance (ESG) targets.
HSBC recently announced support for customers as they take action to address the climate emergency. We detailed our goal to align our financed emissions, that is the carbon emitted by our customers, to net zero by 2050 or sooner. And to help customers achieve this, our ambition is to provide between $750 billion and $1 trillion of finance and investment by 2030.
We want to support clients for the long-term on this journey. We will offer an expanded portfolio of financing solutions, and use our global network to build connections and share expertise. Banks will play a critical role in supporting the transition to net zero carbon emissions, and it is right we are held to account. We will make regular and transparent disclosures to communicate our progress.
While there are few positives to take from the global pandemic, one is that businesses now better understand the disruptive potential of unforeseen shocks. A useful lesson has been the need to change what we do, and how we do it, far more than was initially imagined.
Recent developments underline how sustainability is fast becoming mainstream thought. First, China's historic pledge to reach net-zero emissions by 2060. This was rapidly followed by commitments from Japan and South Korea. And renewed support from the incoming US administration will find willing partners among EU leaders.
These large economies are sending a clear signal to the market. Companies, and investors doing business with them, will have to respond. These commitments create new opportunities for climate leaders and increase the pressure on laggards. Finance must support companies and communities in this mission.
What's the World Economic Forum doing about the transition to clean energy?
Moving to clean energy is key to combating climate change, yet in the past five years, the energy transition has stagnated.
Energy consumption and production contribute to two-thirds of global emissions, and 81% of the global energy system is still based on fossil fuels, the same percentage as 30 years ago. Plus, improvements in the energy intensity of the global economy (the amount of energy used per unit of economic activity) are slowing. In 2018 energy intensity improved by 1.2%, the slowest rate since 2010.
Effective policies, private-sector action and public-private cooperation are needed to create a more inclusive, sustainable, affordable and secure global energy system.
Benchmarking progress is essential to a successful transition. The World Economic Forum's Energy Transition Index, which ranks 115 economies on how well they balance energy security and access with environmental sustainability and affordability, shows that the biggest challenge facing energy transition is the lack of readiness among the world's largest emitters, including US, China, India and Russia. The 10 countries that score the highest in terms of readiness account for only 2.6% of global annual emissions.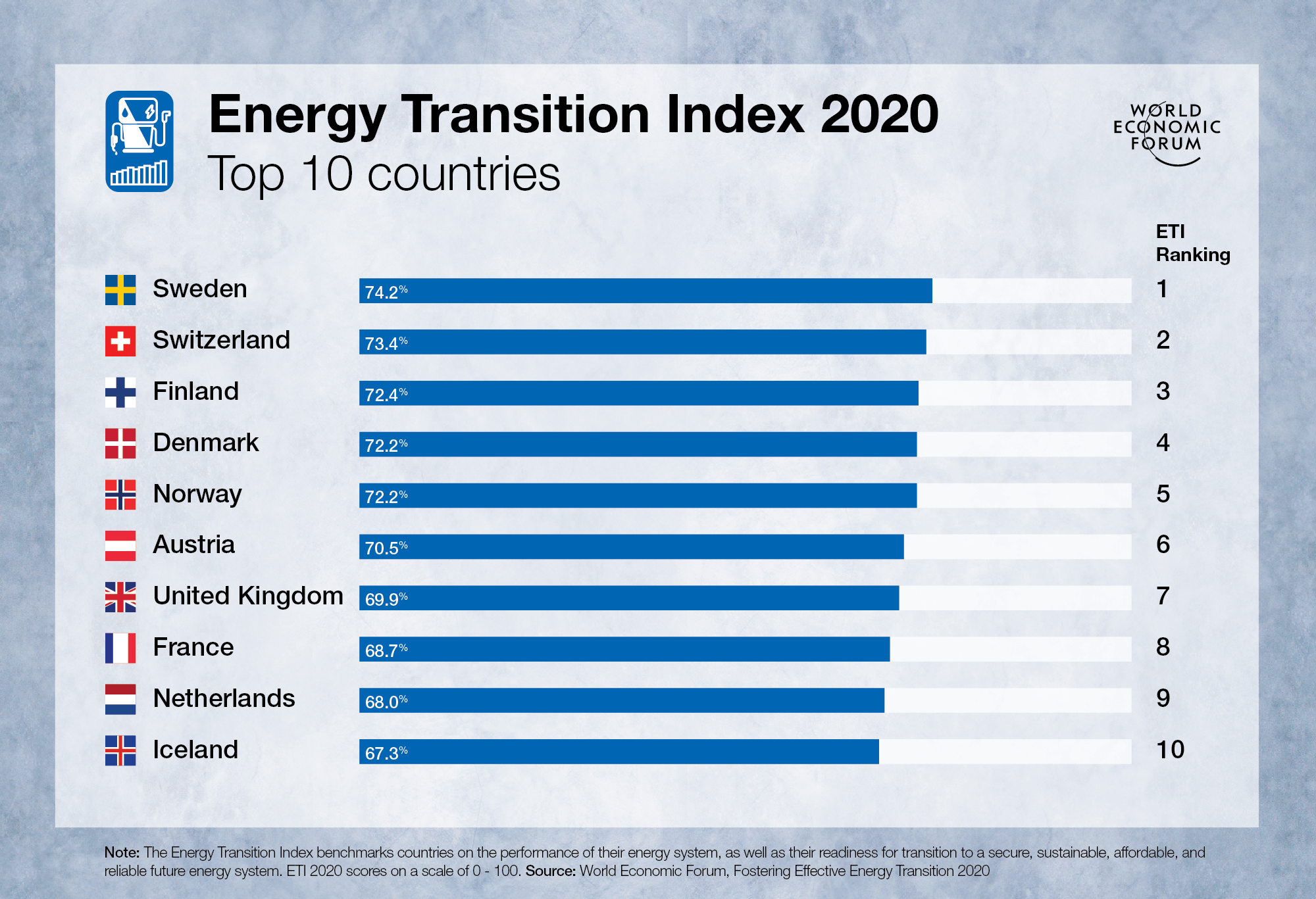 Additionally, the Mission Possible Platform (MPP) is working to assemble public and private partners to further the industry transition to set heavy industry and mobility sectors on the pathway towards net-zero emissions. MPP is an initiative created by the World Economic Forum and the Energy Transitions Commission.
Is your organisation interested in working with the World Economic Forum? Find out more here.
Second, more companies are making public commitments to decarbonize. Notably, this includes high-emission sectors such as oil and gas, which are key to achieving the transition. We will make every effort to support customers by financing their pathway to net zero. This is the single greatest contribution a bank like HSBC can make to addressing climate change.
Working in partnership, we will develop tailored solutions. Last year we partnered with Walmart, the world's largest retailer, to roll-out a finance programme that pegs suppliers' financing costs to their sustainability performance. This promotes efficiency and higher ESG standards throughout supply chains.
We want to play our part. So beyond our support for existing clients, HSBC will target $100 million of investment in cleantech innovation companies that are developing technologies to address environmental challenges.
Today's historically low borrowing costs create an opportunity for green investments which will pay off tomorrow. Agroindustrias AG, a Mexican chicken and dairy farm, is one example of a company that has taken advantage of the falling cost of solar to make a smart investment. Financed through a green loan, they installed solar panels with an average life span of between 25 and 30 years, with lower energy costs, enabling a return-on-investment within about four years.
For some firms, the transition to net zero will prove challenging. But the overwhelming majority now see direct commercial benefits from enhanced sustainability performance. And early movers can create sustainable competitive advantage. We want to be by our clients' side on this journey, working together to translate ambitions into action.