Saint Lucia is paving the way for scalable local solutions to raise funds towards achieving the Sustainable Development Goals.
Ambitious targets are necessary to ignite change that supports Small Island Developing States and other emerging economies to adopt new and innovative funding mechanisms.
Sustainable development and long-term resilience will require regional cooperation and integration to amplify our collective impact.
The start of 2021 on one hand shines a ray of possibility and hope for positive change in many areas of global concern. On the other hand, there is an intensified feeling of urgency and a growing imperative to develop and enact sustainable development solutions across thematic areas. In Saint Lucia and beyond, the existing consequences of COVID-19 have carried over, hand in hand with reports of a new and threatening coronavirus variant, reiterating the importance of identifying needs for post-pandemic survival and preparing for unexpected changes.
The new year is also a testament to the existing, pre-pandemic vulnerabilities of Small Island Developing States (SIDS). It is no secret that many SIDS depend on tourism – accounting for more than 40% of GDP in Saint Lucia before the COVID-19 outbreak – as a large portion of their economy and, with rapidly-decreasing amounts of post COVID-19 foreign direct investment, time is not on our side. Moreover, the recent impact of Cyclone Yasa in the Pacific has reminded us of the constant threat of climate emergencies and natural disasters faced by small island nations.
Placing humanity at the forefront of the development finance sphere is crucial now more than ever before, to rebuild livelihoods and create a better future for global communities. While long-term development financing to reach the United Nations Sustainable Development Goals (SDGs) is paramount for overall social inclusivity and environmental sustainability, we know that it will take concrete, solutions-based planning to get there. Here are three ways SIDS and other developing economies can unlock innovative financing to achieve the SDGs:
1. Create an actionable and context-driven blueprint
Saint Lucia and other SIDS are well placed to leverage the power of renewable energy, innovative financing, and the ocean economy to lower debt and create a more favourable investment landscape. As part of its ongoing partnership with the World Economic Forum under the Sustainable Development Investment Partnership (SDIP), the Saint Lucia Country Financing Roadmap (CFR) is an actionable and evidence-based blueprint towards long-term development financing.
Creating solutions begins with understanding the problems. The CFR is a country-led platform that has, in Saint Lucia's case, considered the unique characteristics of a small island nation. In addition to a data-backed baseline assessment, the CFR works to identify and encourage stakeholder consensus around the main obstacles preventing financial flows towards priority SDGs. The framework convenes partners across public, private, domestic, and foreign levels, expanding Saint Lucia's access to regional and global institutions while creating valuable cross-sector innovation networks.
Stimulating systems change starts with the empowerment of real communities and real people. As a result of the CFR, Saint Lucia will be piloting the Financing of Return to Employment (FORTE) programme – a data-driven programme that works by retraining individuals in high-demand areas at no upfront cost to the government, addressing both the immediate and future labour market priorities of the nation.
The costs of running the programme will be covered by private financing to be repaid by a percentage of future tax revenues resulting from an increased workforce, essentially allowing the programme to pay for itself over time. The FORTE programme is an example of a replicable solution that can be adopted by other SIDS, where unemployment continues to slow progress and recovery.
2. Identify mechanisms for unlocking capital
Gone are the days of identifying problems without tangible solutions. We know that advancement toward the SDGs will require active involvement from all levels, including public, private, foreign, and domestic investment – supplemented by a proactive dialogue and consensus building on the most effective ways to pool resources and lower risks.
Efforts to achieve this do not have to reinvent the wheel. There are timely examples to draw from, such as the recently launched net-zero equity fund, which mobilizes public and private investments for climate change and renewable energy. Though the achievement of net-zero emissions by 2050 is a lofty goal, now is the time to heighten ambition and find bold ways forward. Initiatives such as these also contain a strong advocacy component, underpinned by industry accountability, that highlights community needs at every step of the way.
It is only in understanding our collective potential, that we can measure how far we have come and how far we have left to go. Country approaches to receiving Official Development Assistance (ODA) will continue to evolve, placing self-reliance at the heart of policy, financing and partnership models. Despite its insinuation, this does not mean rejecting foreign aid, but rather pivoting towards encouraging greater involvement of domestic industries, resources, and human capital in the path towards achieving sustainable development – a core component of Saint Lucia's strategy, and also seen in the Ghana Beyond Aid initiative.
3. Adopt a collaborative approach through regional integration
Regional integration is mutually beneficial for governments to reduce operating costs and increase efficiency – a solution requiring full commitment from all sides. In the instance of the COVID pandemic, we saw integrated response-driven efforts for the collective purchasing of medical supplies within the Caribbean region, and although we are truly better together, we do not seem to have moved fast enough in other areas. Currently, only 20% of exports from Saint Lucia are to other CARICOM (The Caribbean Community) countries, and merely three countries export more than 40% within the region – numbers that illustrate a glaring gap that, if filled, could increase collective opportunities for international investment.
As a national and regional concern, SIDS, including the members of the Organization of Eastern Caribbean States (OECS), are rallying around blue-green recovery. While a healthy ocean is crucial to the fight against climate change, it is also an undeniable piece of the puzzle, alongside reimagined tourism, for a resilient economy. With pledges of support from the European Union and the Government of Norway, among others, the OECS is well on its way to developing the capacity to facilitate regional collaboration and share best practices in promoting blue-green investment.
This builds upon the importance of maintaining and amplifying the voice of small islands on the global stage. Saint Lucia's participation in the World Economic Forum's Davos Agenda will include involvement in a Devex-affiliated session that aims to accelerate dialogue around the current international financial system, where many small, highly climate vulnerable SIDS like Saint Lucia are classified as middle-income, thus unable to access much needed sources of concessional financing.
The Davos Agenda will also provide an opportunity to further express national commitments to ocean resilience measures and policies, a building block for establishing a government-owned Blue Recovery Hub. Driven by a partnership with the OECD-WEF-Friends of Ocean Action, the Hub is a viable solution to mobilize support from the international community under a common framework and address the urgency for new and relevant recovery strategies.
What is the World Economic Forum doing to manage emerging risks from COVID-19?
The first global pandemic in more than 100 years, COVID-19 has spread throughout the world at an unprecedented speed. At the time of writing, 4.5 million cases have been confirmed and more than 300,000 people have died due to the virus.
As countries seek to recover, some of the more long-term economic, business, environmental, societal and technological challenges and opportunities are just beginning to become visible.
To help all stakeholders – communities, governments, businesses and individuals understand the emerging risks and follow-on effects generated by the impact of the coronavirus pandemic, the World Economic Forum, in collaboration with Marsh and McLennan and Zurich Insurance Group, has launched its COVID-19 Risks Outlook: A Preliminary Mapping and its Implications - a companion for decision-makers, building on the Forum's annual Global Risks Report.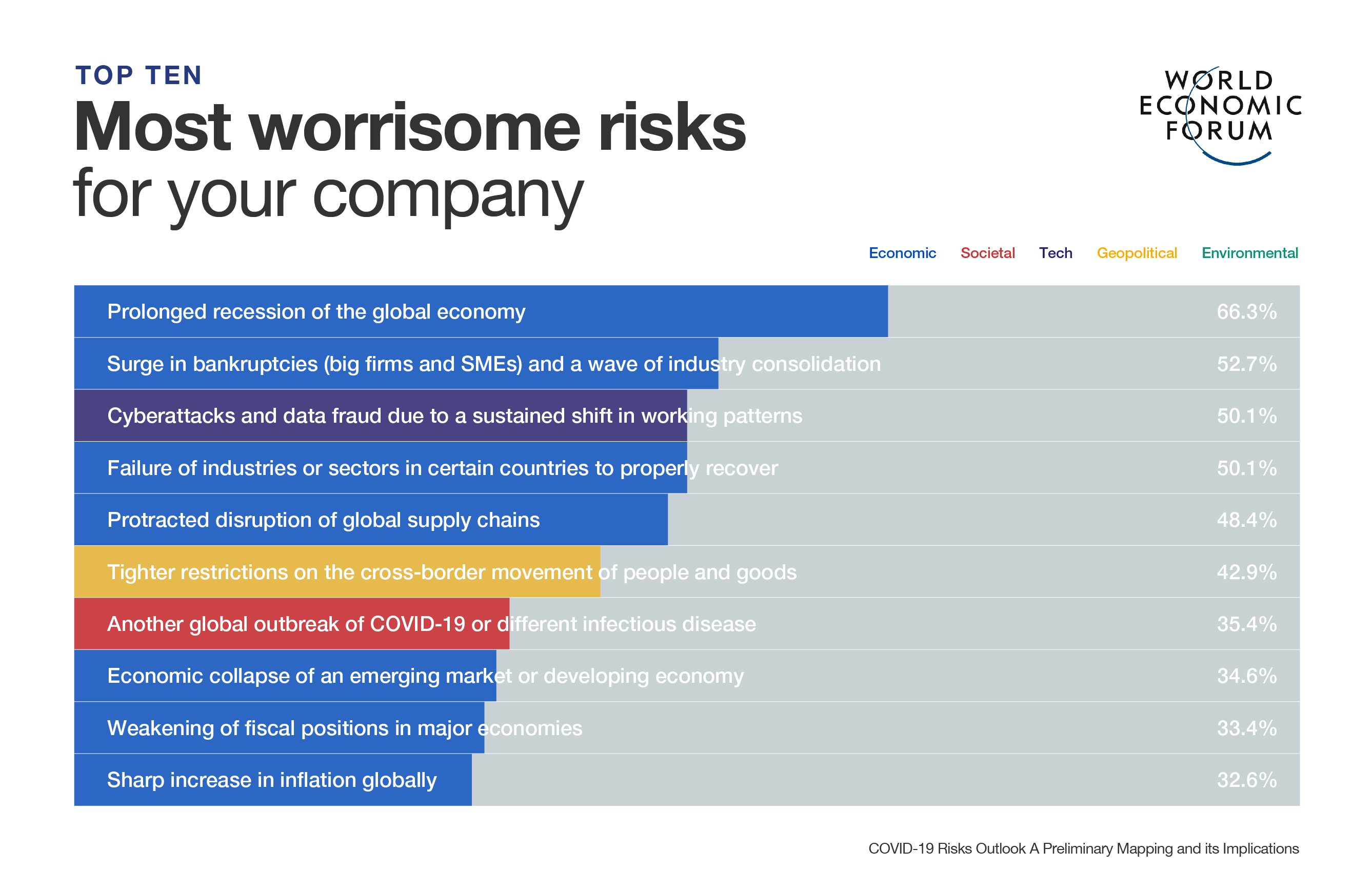 The foundation for creating innovative and practical SDG financing solutions is not a one-size-fits-all journey. However, we can leverage reliable examples for local, regional, and global impact accompanied by tangible and actionable strategies. Global leadership in developing countries must work together to build a pathway for development financing solutions and, ultimately, systems-change initiatives determined by the unique context of countries and regions.
As a part of its strategy for 2021, Saint Lucia will continue working with SIDS and the larger global community to harness collective knowledge and best practices to advance progress towards sustainable development, re-illuminating the ray of hope for a new year and better tomorrow.