This round-up brings you everything you need to know about the COP26 climate summit, climate change and greenhouse gas emissions targets.
Top stories: Week 2 of COP26 sees finance commitments for vulnerable countries and annual emissions updates on the agenda; Al Gore warns 'we are far from the goals we need to reach'; US sets goal to make removing CO2 from air cheaper.
Key COP26 stories
Tuvalu's foreign minister has given a speech to COP26 standing knee-deep in seawater to show how his low-lying Pacific island nation is on the front line of climate change. Images of Simon Kofe standing in a suit and tie at a lectern set up in the sea, have been shared widely on social media.
The European Investment Bank and Allianz Global Investors said on Monday they plan to raise 500 million euros ($577.55 million) for a fund aimed at bolstering climate mitigation and adaptation in developing countries. The Emerging Market Climate Action Fund (EMCAF), a fund-of-funds, aims to bring together public and private investors.
Negotiations on rules for global carbon markets at COP26 are tough, but there are hopes of a breakthrough after years of deadlock, the Norwegian minister trying to broker a deal said on Sunday. Norway and Singapore are leading efforts for a deal on carbon markets that was omitted from the Paris accord.
Former US Vice President Al Gore said on Friday progress had been made on addressing rising global temperatures, but COP26 delegates of dire consequences if countries did not keep their promises. Summing up the first week, he said: "We have the tools that we need to solve this crisis. We have heard pledges that will move us in a long direction toward these solutions..."
An estimated 120,000 protesters, including Greta Thunberg, marched on Saturday through rainy Glasgow, and in more than 300 cities around the world, to demand bolder action at COP26. At a rally at Glasgow Green, indigenous community members called for rainforest protection and food producers urged ecologically friendly forms of farming.
2. Annual emissions updates on the agenda in Week 2 of COP26
Among the big issues to resolve are: setting reliable rules for carbon markets, assessing how industrialized countries should pay for climate-linked losses incurred by the rest of the world, and working out financing to help developing countries adapt.
But one idea has gained traction: making countries review and, if necessary, update their emissions-cutting pledges every year, rather than on the current five-year schedule.
What's the World Economic Forum doing about the transition to clean energy?
Moving to clean energy is key to combating climate change, yet in the past five years, the energy transition has stagnated.
Energy consumption and production contribute to two-thirds of global emissions, and 81% of the global energy system is still based on fossil fuels, the same percentage as 30 years ago. Plus, improvements in the energy intensity of the global economy (the amount of energy used per unit of economic activity) are slowing. In 2018 energy intensity improved by 1.2%, the slowest rate since 2010.
Effective policies, private-sector action and public-private cooperation are needed to create a more inclusive, sustainable, affordable and secure global energy system.
Benchmarking progress is essential to a successful transition. The World Economic Forum's Energy Transition Index, which ranks 115 economies on how well they balance energy security and access with environmental sustainability and affordability, shows that the biggest challenge facing energy transition is the lack of readiness among the world's largest emitters, including US, China, India and Russia. The 10 countries that score the highest in terms of readiness account for only 2.6% of global annual emissions.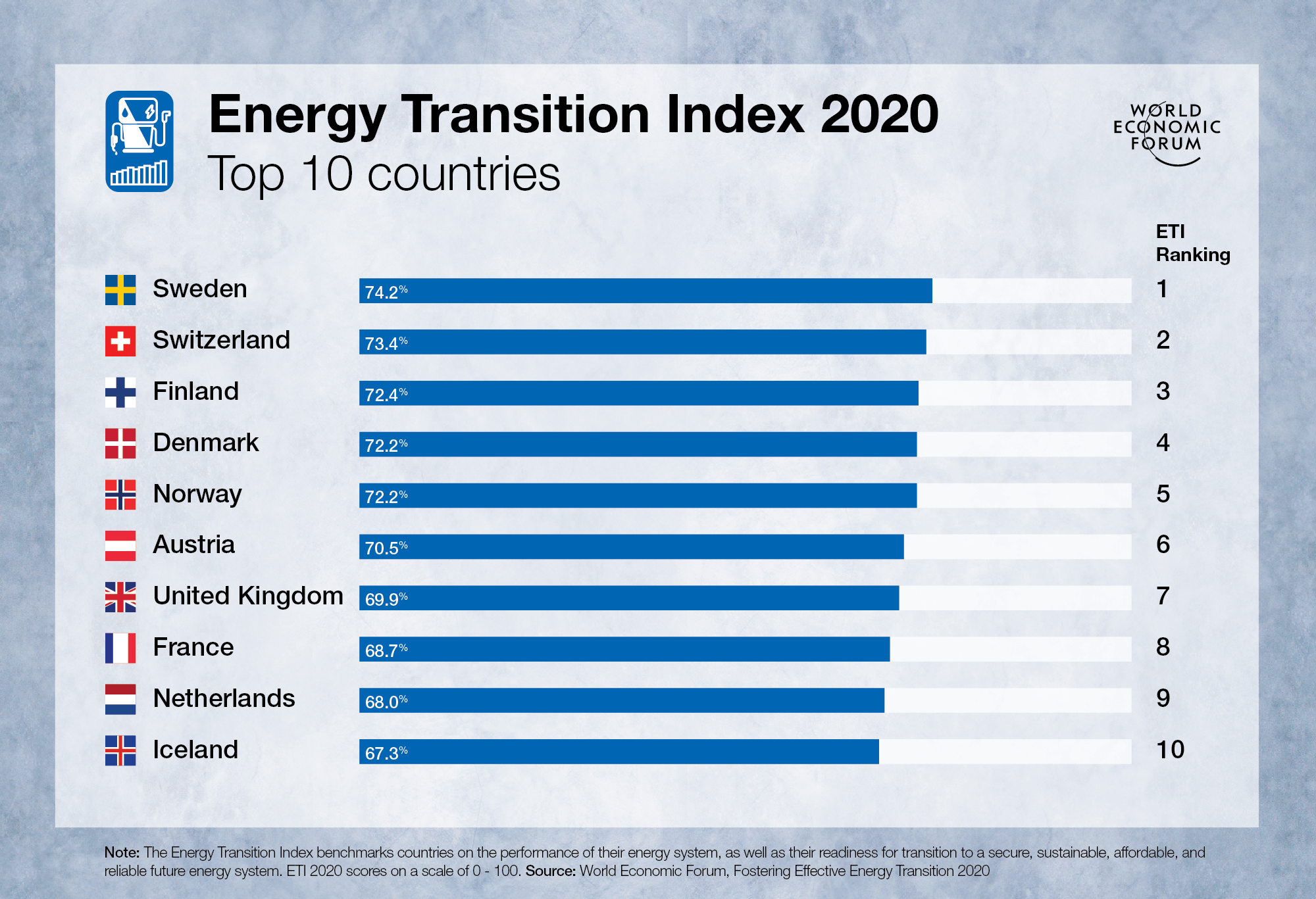 Additionally, the Mission Possible Platform (MPP) is working to assemble public and private partners to further the industry transition to set heavy industry and mobility sectors on the pathway towards net-zero emissions. MPP is an initiative created by the World Economic Forum and the Energy Transitions Commission.
Is your organisation interested in working with the World Economic Forum? Find out more here.
"It's an emergency. Every five years? That's not treating it like an emergency," said Saleemul Huq, advisor to the 48-country Climate Vulnerable Forum, which began lobbying for more frequent reviews before the Glasgow talks even began.
UN Secretary-General Antonio Guterres told delegates last week that, if COP26 fell short, countries should be required to revisit their climate plans every year.
US climate envoy John Kerry also backed more regular reviews.
"I hope we come out with a very good framework. Whether it's five years (or) less, I can't tell you today," Kerry told journalists Friday. "But I definitely believe it should be as short as we can."
3. US goal to reduce cost of removing CO2 from atmosphere
The Department of Energy's Carbon Negative Earthshot seeks to slash the cost of carbon removal to $100 a tonne by the end of the decade, either through Direct Air Capture (DAC) or helping forests and other natural systems capture and store the gas.
It is the department's third 'Earthshot', meant to help achieve Biden's climate goals, by driving innovations in the toughest technologies to crack. The first two set goals on lowering costs of green hydrogen and long-term utility scale battery storage of energy from renewables.