The Biden Administration and U.S. automakers set a goal for electric vehicles to become 50% of new vehicle sales by 2030.
To achieve this, EVs must be made more affordable and 1.8 million public charging stations must be installed, which is 40 times the figure currently available in America.
Pole-mounted charging could help fill this gap, according to new research.
This technique involves using existing utility pole and streetlight infrastructure to install the EV chargers.
Experts explain below why this is an effective way forward.
In 2021, the Biden Administration and American automakers, set a goal for electric vehicles (EVs) to make up 50% of new vehicle sales by 2030. Achieving this ambitious target will not be possible without making EVs more affordable to everyone and a corresponding effort to install over 1.8 million public charging stations — 40 times the current volume of chargers in the United States.
For this monumental infrastructure buildout to be successful at enabling mass EV adoption, public charging access must be equitably distributed to support all drivers — especially in areas where residents use on-street parking. Achieving this will require EV chargers located at the curbside, a type of installation limited by high installation costs and crowded curbsides. To navigate these challenges, a new approach has emerged: using existing utility pole and streetlight infrastructure to install EV chargers, or pole-mounted charging.
The pole-mounted charging opportunity
Several cities across the United States are piloting pole-mounted chargers (PMCs) but only one, Los Angeles, has scaled this solution with over 450 PMCs.
Gathering insights from over 30 stakeholders across 13 cities, a new WRI working paper funded by the UPS Foundation, details learnings from existing pole-mounted charging programs and outlines preliminary guidance for U.S. cities and utilities interested in taking advantage of this solution:
1. Lower costs, more chargers:
WRI's research finds that compared to ground-mounted chargers, PMCs yield installation cost savings up to 55% and overall cost reductions of 30% by using existing electrical connections and avoided costs associated with construction, materials, and labor. This means more chargers can be deployed for the same amount of public and private investments. Additionally, PMCs preserve valuable space for pedestrians and the growing list of services facilitated at the curb.
2. PMCs can help enable more equitable charger distribution:
Less than 10% of US residents have public EV charging located within a 1/4 mile of their home. Additionally, Black and Latinx communities have disproportionately less access to this infrastructure. PMCs can serve drivers without access to charging at home. By prioritizing equitable access and input from local community engagement during the site selection process for chargers, PMCs can support those with the least access to this infrastructure.
3. Support ridehailing electrification:
4. Efficient and flexible installations:
PMC installations can be completed in a matter of hours, compared to the weeks it can take to install a ground-mounted unit. In addition, the modularity of PMCs allows chargers to be relocated to different poles with relative ease, making public chargers adaptable assets that can meet the everchanging needs of the curbside.
5. Elevated equipment:
PMCs can be mounted several feet up on a pole, providing several benefits including resiliency in flood-prone areas, vandalism reduction, and keeping equipment up and away from passing traffic.
Looking forward
Pole-mounted charging offers a cost-effective and creative approach for siting and installing public charging stations. In addition, they present an important tool that can help expand access to charging within U.S. cities. This isn't, however, a one-size-fits-all solution — utility pole and streetlight infrastructure can vary significantly from one city to another, and PMC installations alone cannot match the projected demand for charging.
What's the World Economic Forum doing about the transition to clean energy?
Moving to clean energy is key to combating climate change, yet in the past five years, the energy transition has stagnated.
Energy consumption and production contribute to two-thirds of global emissions, and 81% of the global energy system is still based on fossil fuels, the same percentage as 30 years ago. Plus, improvements in the energy intensity of the global economy (the amount of energy used per unit of economic activity) are slowing. In 2018 energy intensity improved by 1.2%, the slowest rate since 2010.
Effective policies, private-sector action and public-private cooperation are needed to create a more inclusive, sustainable, affordable and secure global energy system.
Benchmarking progress is essential to a successful transition. The World Economic Forum's Energy Transition Index, which ranks 115 economies on how well they balance energy security and access with environmental sustainability and affordability, shows that the biggest challenge facing energy transition is the lack of readiness among the world's largest emitters, including US, China, India and Russia. The 10 countries that score the highest in terms of readiness account for only 2.6% of global annual emissions.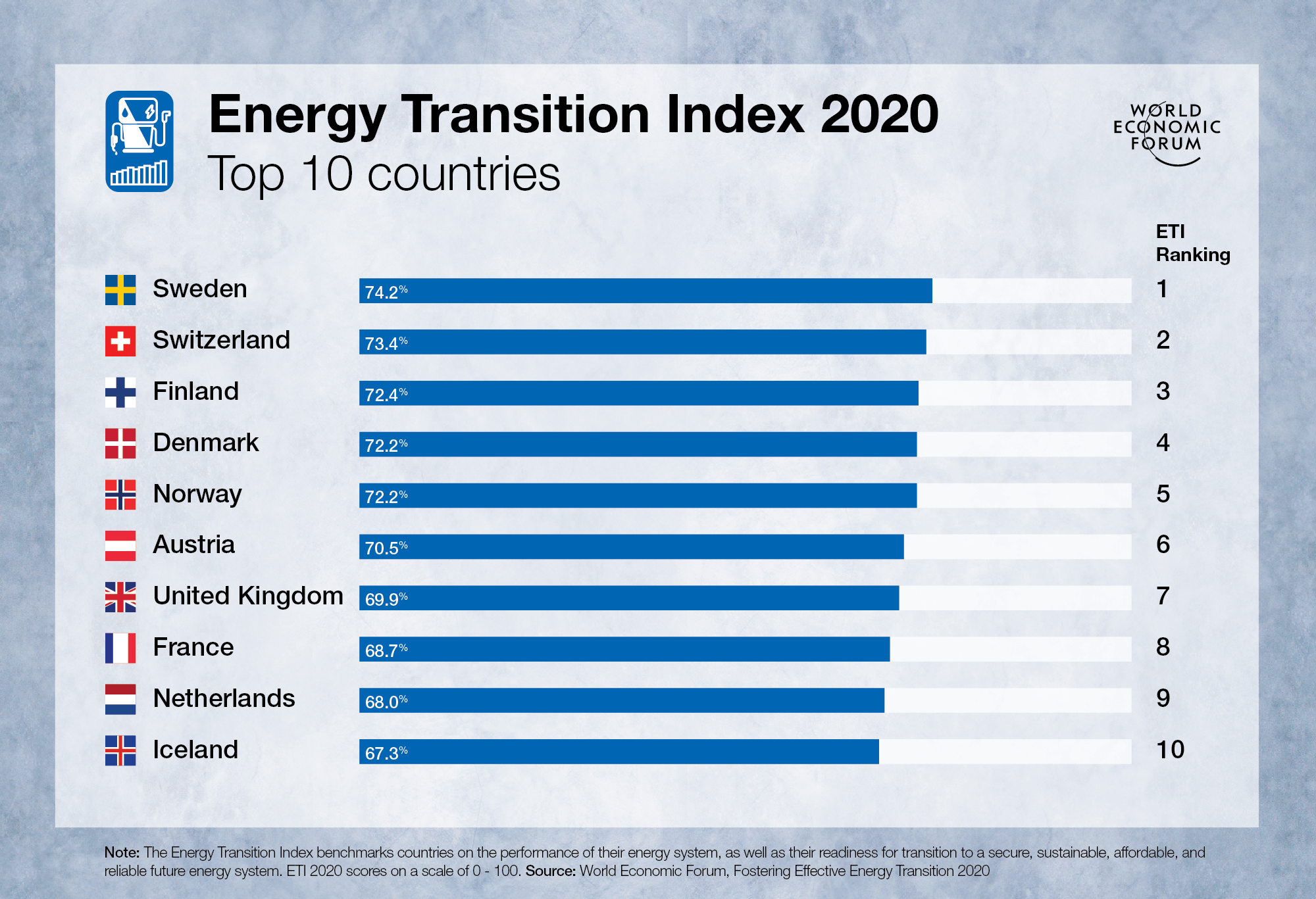 Additionally, the Mission Possible Platform (MPP) is working to assemble public and private partners to further the industry transition to set heavy industry and mobility sectors on the pathway towards net-zero emissions. MPP is an initiative created by the World Economic Forum and the Energy Transitions Commission.
Is your organisation interested in working with the World Economic Forum? Find out more here.
Using the guidance and insights developed by WRI, cities and utilities interested in deploying PMCs should assess if it is a strategy well-suited to their local context and determine how PMCs could support the creation a comprehensive public charging network.