Industry is an engine for economic growth and prosperity, but is also accountable for about one quarter of the world's emissions.
However, it needs to accelerate decarbonization and achieve sustainable growth to help the world meet global emissions targets.
Companies should focus on digitalizing industries, closer collaboration with partners and pursuing smart policies to reach net-zero.
The pandemic has shown us that humanity can adapt – and adapt quickly – with the help of technology. This is a good thing because we have another huge challenge on our hands, where we need to act fast – climate change. According to the Intergovernmental Panel on Climate Change, we're running out of time to limit global warming.
Accelerating decarbonization of industries
If we want to put the world on a more sustainable path, then we need to accelerate the transformation of our economy. While this may seem like a daunting task, I believe that if we focus on three priorities – digitalizing industries, closer collaboration with partners, and pursuing smart policies – then industries can accelerate decarbonization and achieve sustainable growth.
1. Technologies that boost sustainability also boost competitiveness
Technology can help us to transform the backbone of our economies. By combining the real and the digital worlds, which enables new insights from data, industries can become smarter, achieving greater efficiencies and conserving resources.
That's a breakthrough for energy-intensive companies like Gestamp, where energy costs are closely linked to operating costs. Any gains in energy efficiency translate into significant gains for both business and the climate. Gestamp, an auto parts manufacturer, was able to reduce energy consumption and emissions by 15%, by connecting 20 of its production plants to a cloud-based energy management platform, which analyzed millions of data points in real-time.
But in today's world, we need to go way beyond making existing processes more efficient. We need to think about how we achieve more output with fewer resources, as well as what happens when a product reaches the end of life. In short, we need to transform our world with sustainability in mind.
Which is why when we redesigned our Mireo regional and commuter train, we did it together with customers including Deutsche Bahn, putting their sustainability challenges at the core. Not only does this train use 25% less energy, but where rail lines are not yet electrified, it can operate on hydrogen or battery drive technologies, thus helping rail operators to meet decarbonization targets. And at the end of its service life, 95% of the train parts are recyclable.
Technologies such as digital twins make it possible to completely reimagine the design of our products and their production processes. Before a product, a machine, or a plant is even built, we can optimize its design and performance in the virtual world. Over its lifetime, we can use feedback data from its application in the real world to improve its operation and enhance future designs.
A more sustainable design does more than bring benefits for customers, it also brings benefits to producers too. Right now, we're all aware of how vulnerable our supply chains are. Any kind of delay in the shipment of a component or a product can bring production lines to a standstill.
What's the World Economic Forum doing about the transition to clean energy?
Moving to clean energy is key to combating climate change, yet in the past five years, the energy transition has stagnated.
Energy consumption and production contribute to two-thirds of global emissions, and 81% of the global energy system is still based on fossil fuels, the same percentage as 30 years ago. Plus, improvements in the energy intensity of the global economy (the amount of energy used per unit of economic activity) are slowing. In 2018 energy intensity improved by 1.2%, the slowest rate since 2010.
Effective policies, private-sector action and public-private cooperation are needed to create a more inclusive, sustainable, affordable and secure global energy system.
Benchmarking progress is essential to a successful transition. The World Economic Forum's Energy Transition Index, which ranks 115 economies on how well they balance energy security and access with environmental sustainability and affordability, shows that the biggest challenge facing energy transition is the lack of readiness among the world's largest emitters, including US, China, India and Russia. The 10 countries that score the highest in terms of readiness account for only 2.6% of global annual emissions.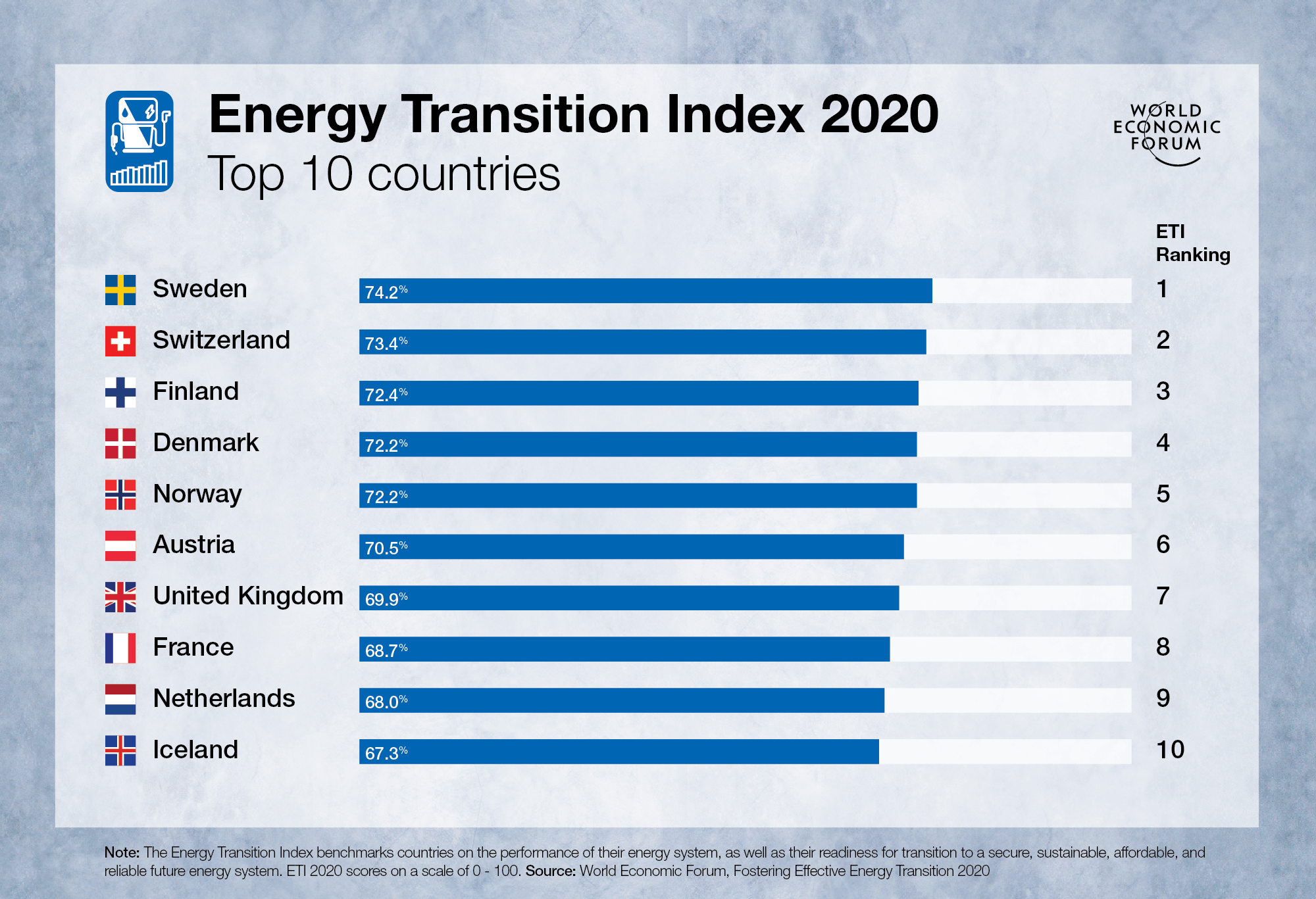 Additionally, the Mission Possible Platform (MPP) is working to assemble public and private partners to further the industry transition to set heavy industry and mobility sectors on the pathway towards net-zero emissions. MPP is an initiative created by the World Economic Forum and the Energy Transitions Commission.
Is your organisation interested in working with the World Economic Forum? Find out more here.
Using additive manufacturing to produce goods closer to where they're needed, improves a firm's resiliency, eliminates the emissions associated from shipping products around the world, and opens up new business models too.
You Mawo, an eyewear manufacturer uses 3D printing to produce individualized glasses. This gives them both a competitive edge over conventional manufacturers and the ability to achieve a 58% lower carbon footprint because this method produces less waste.
2. Work with partners to tackle supply chain emissions
While it is all well and good for organizations to deploy technologies that improve their sustainability, let's face it, the biggest hurdle to cutting emissions lies in our supply chains, where more than 90% of carbon emissions occur.
Decarbonization of supply chains is no easy task, especially since many companies lack transparency over their suppliers.
And that's understandable. At Siemens, we have more than 65,000 suppliers, who in turn have countless suppliers. Imagine trying to trace and compile data for every single component, itself composed of many parts, when this data is hidden in the multiple tiers of suppliers.
This is where digitalization can help. Software tools like SiGREEN, which is based on blockchain technology, allow companies to search, calculate and securely exchange the environmental footprint data of their products, all the way from the extraction of raw materials to the end of life.
When companies have a better understanding of where their emissions occur, they can work with their suppliers to develop strategies to reduce them.
One way we approach this is through our Green Digital Twin, which contains a model of our entire supply chain, including related materials, processes, and resources. Using exact simulations, we can explore different scenarios to reduce the footprint of our products and solutions, together with our partners. Our goal is to reduce our supply chain emissions by 20% by 2030, reaching net-zero by 2050.
Companies across the industry face similar challenges, so it makes sense to join forces. The World Economic Forum's Net-Zero in Manufacturing and Value Chains Initiative, which Siemens is part of, works with industry leaders to accelerate the adoption of innovations to reach net-zero targets.
3. Smart policies to speed up deployment of green tech
Climate change is too big for any organization, sector, or country alone to tackle. Policymakers and industries need to work together to accelerate the transformation of economies.
More than 70 countries and regions, including the EU, have set net-zero targets for 2050 or earlier. But current measures to reach these targets fall short. However, with smart policies that drive change and speed up the deployment of new technologies, we stand a better chance of meeting them.
Putting a price on carbon creates an incentive for firms to decarbonize its operations. And the revenue generated can be used to foster innovation and investment in low carbon technologies. That said, any carbon pricing scheme will only drive real change when the price of carbon is sufficiently high and all sectors are included.
Today less than 20% of the world's emissions are covered by a carbon pricing scheme. The Environmental Defense Fund estimates that a global carbon market could reduce the cost of meeting the Paris Agreement by up to 79% and create a level playing field where no firm is at a competitive disadvantage.
Technology is key to decarbonization
This is the decisive decade in the race against climate change. Reaching net-zero won't be easy – it will require closer collaboration and smarter policies.
The good news is that digital transformation gives us a head start. The technologies that boost efficiency, productivity and transparency, can pave the way to a more resilient and sustainable future too.