Like most city-dwellers, Scots travel in polluting vehicles, use fossil fuels to heat their homes and work in an economy that produces greenhouse gases. But Scotland's two biggest towns are racing to become the first city in Britain with net-zero emissions.

Long-time rivals Glasgow and Edinburgh both have plans to decarbonise their economies, moving faster than the rest of Britain towards net-zero carbon status.
What's the World Economic Forum doing about the transition to clean energy?
Moving to clean energy is key to combating climate change, yet in the past five years, the energy transition has stagnated.
Energy consumption and production contribute to two-thirds of global emissions, and 81% of the global energy system is still based on fossil fuels, the same percentage as 30 years ago. Plus, improvements in the energy intensity of the global economy (the amount of energy used per unit of economic activity) are slowing. In 2018 energy intensity improved by 1.2%, the slowest rate since 2010.
Effective policies, private-sector action and public-private cooperation are needed to create a more inclusive, sustainable, affordable and secure global energy system.
Benchmarking progress is essential to a successful transition. The World Economic Forum's Energy Transition Index, which ranks 115 economies on how well they balance energy security and access with environmental sustainability and affordability, shows that the biggest challenge facing energy transition is the lack of readiness among the world's largest emitters, including US, China, India and Russia. The 10 countries that score the highest in terms of readiness account for only 2.6% of global annual emissions.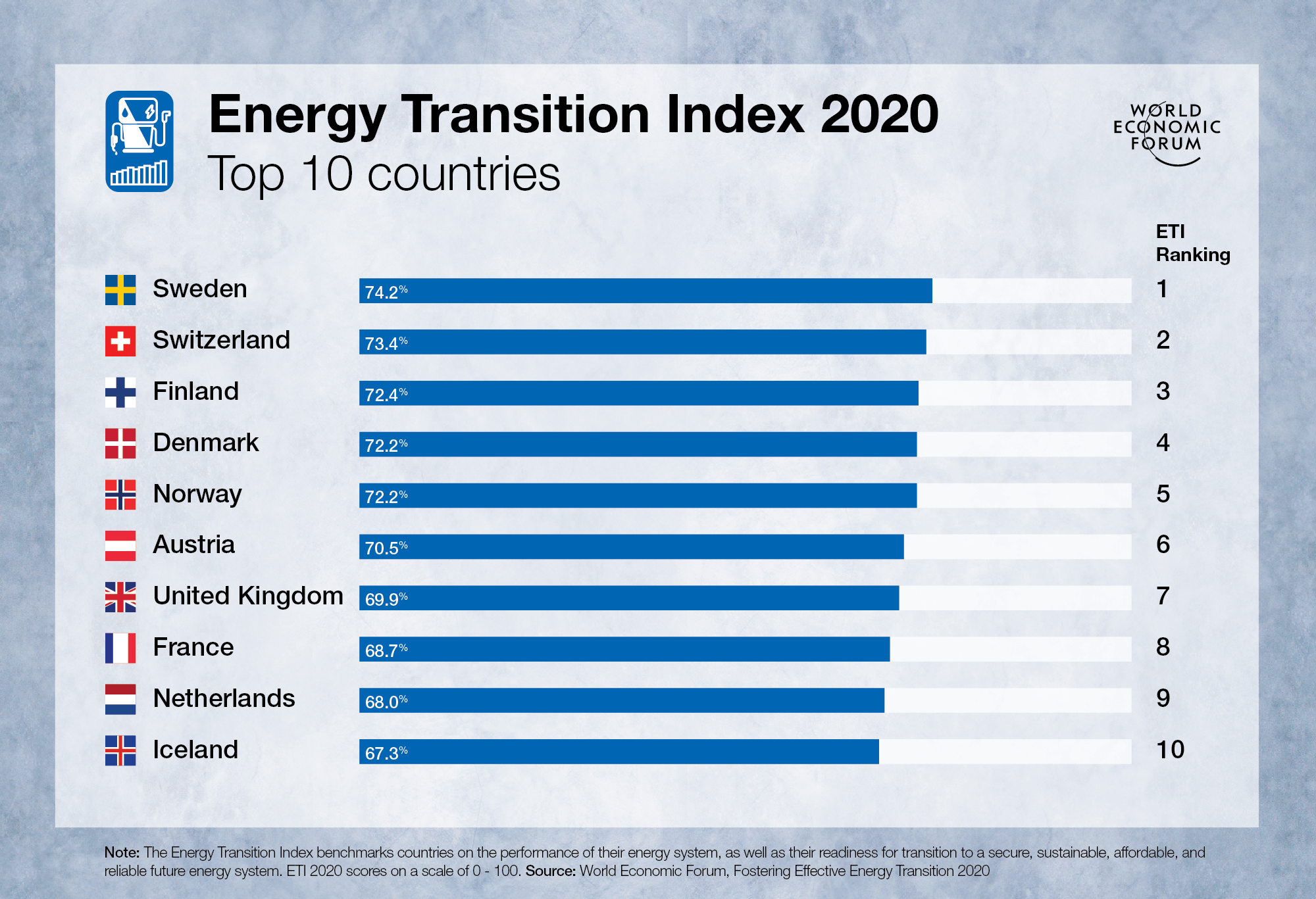 Additionally, the Mission Possible Platform (MPP) is working to assemble public and private partners to further the industry transition to set heavy industry and mobility sectors on the pathway towards net-zero emissions. MPP is an initiative created by the World Economic Forum and the Energy Transitions Commission.
Is your organisation interested in working with the World Economic Forum? Find out more here.
Both have set targets which go beyond the Scottish government's 2045 net-zero target and that set by the UK government's Committee on Climate Change of 2050. Achieving net-zero status involves more than reducing emissions – it also involves offsetting greenhouse gases released with initiatives such as planting trees.
Glasgow City Council is working with Scottish Power, the energy provider in charge of the UK's largest onshore wind farm, located on Glasgow's outskirts.
Glasgow's energy sector is dominated by wind power, and continued investment in the electricity grid has allowed the city to focus on other parts of the economy such as transport and heating.

More than 70% of Glasgow residents live in buildings without private off-street parking which are unable to install electric vehicle (EV) charging facilities. The city aims to create a network of charging stations to encourage the takeup of EVs. Electric buses are also being planned to service the city's main routes.
Edinburgh's carbon emissions have fallen by about a third since 2005. The council aims to continue that momentum by boosting renewable energy, making the city centre a low-emissions zone, and encouraging low-carbon design for construction projects.
The city aims to prioritize local production, with schemes in place to reduce waste and increase recycling.
Cyclists, pedestrians and public transport will have better access to the city centre, which will be off-limits to most cars. Freight hubs are planned for Edinburgh's periphery with low-carbon transfers of goods into the city.

The prize for the city that eliminates its emissions first? Cleaner air, an improved environment, better health, and the kudos of winning the race to zero.
The United Nations Intergovernmental Panel on Climate Change calls for urgent action to keep global temperatures no more than 1.5°C above pre-industrial levels. Failure to mitigate the extreme effects of climate change could kill off many species and pose an existential threat to humans.