Hydrogen as an energy carrier will play an important role in decarbonization of multiple industries.

Partnerships between politicians, businesses and individuals alike will be key to ensuring a successful transition to greener energy.

US and China well positioned for renewables revolution, while the EU will remain an energy importer.

"Water is the coal of the future." That's how French author Jules Verne summed it up nearly 150 years ago. "The elements hydrogen and oxygen, decomposed by electric current, will in the future supply the Earth's energy," he went on to say.
Will Verne be right? Is hydrogen really becoming the 'silver bullet' to advance the decarbonization of the Earth? Or is it merely a 'hype train', as Forbes put it?
One thing is certain: hydrogen alone will not stop climate change. What we need most for a successful energy transition is rapid growth in renewables overall, alongside an expansion of the grid to transport the renewable electricity to consumer regions.
In parallel, we must succeed in making the existing energy systems more efficient and rely on interim solutions. The shift from coal to gas will save a large amount of carbon dioxide particularly quickly.
Hydrogen will play a role in decarbonization
Hydrogen, when produced from clean electricity, is seen by many as a critical enabler of the global transition to sustainable energy and a vital component of achieving net-zero emissions economies. However, it is currently limited to a select few industrial applications and is more costly than other fossil fuel alternatives.

Nevertheless, the global hydrogen market is picking up speed and for good reason. Hydrogen, also known as H2, will play an important role as an energy carrier, which enables the transfer of energy from one place to another.
Indeed, it can help drive the decarbonization of entire industrial sectors and combat climate change in the process – be it as e-fuel in the transport sector or as a way of reducing emissions in steel production and numerous other industries.
Hydrogen can also play a vital role in getting energy to areas where it is usually imported. Energy can be produced competitively in areas where renewables such as wind are abundantly available, converted into hydrogen or other molecules, and then transported to import regions.
Finally, energy stored as hydrogen will help stabilize increasingly volatile power grids. Even when the wind doesn't blow and the sun doesn't shine, we need sources of electricity that can step in and ensure that blackouts remain things of the past.
Energy transition will involve working together
We must now get hydrogen technology standards to an industrial level and actively shape the market, throughout the entire value chain, for all of this to work. This task will require courage and drive, along with a strong belief in the ultimate success of the transition.
To achieve this, partnerships are needed among political leaders, the business community and society as a whole, along with dynamic action. In essence, we must work together – now!
Chile is a prime example of what I am talking about. In the windy south of the country, the world's first integrated and commercial large-scale plant for the production of climate-neutral fuels is being built in a project called Haru Oni. The work is driven by committed partners which have never collaborated in this way before.
And that's just one example of how we can turn big ideas into concrete action when we work together across borders. The good news is that numerous countries support these efforts and have set ambitious goals in the area of hydrogen.
The job now is to scale up the industry and economically produce hydrogen from renewables – namely, "green" hydrogen. Here, too, signs are pointing in the right direction. The rates for renewable electricity needed to produce green hydrogen are falling, as are prices for the electrolyzers that are used to split water into hydrogen and oxygen.
Move to renewables will change global structures
To pull off this trick, we will need a second important component: trust. Why? Because a sustainable energy system based on renewables will massively change the political structures of the world. Something that may be good for the global climate could lead to serious geopolitical upheavals and this issue must be discussed openly and honestly.
What will the expansion of hydrogen mean for relationships among traditional exporters of fossil fuels, new hydrogen producers and existing import markets? As global trade flows shift, new political alliances will emerge and existing exporters will lose influence.
One thing is clear. Today's exporters of fossil fuels are gaining some competition. The growth of renewables will favour regions where the wind frequently blows or the sun regularly shines. But what will this shift mean specifically for the major economic regions?
According to a study in Energy Research & Social Science, the United States and China are well positioned. Both are endowed with abundant natural resources and play an important role as producers of energy technology. Moreover, each has ample potential to produce the large quantities of hydrogen they will need.
What's the World Economic Forum doing about the transition to clean energy?
Moving to clean energy is key to combating climate change, yet in the past five years, the energy transition has stagnated.
Energy consumption and production contribute to two-thirds of global emissions, and 81% of the global energy system is still based on fossil fuels, the same percentage as 30 years ago. Plus, improvements in the energy intensity of the global economy (the amount of energy used per unit of economic activity) are slowing. In 2018 energy intensity improved by 1.2%, the slowest rate since 2010.
Effective policies, private-sector action and public-private cooperation are needed to create a more inclusive, sustainable, affordable and secure global energy system.
Benchmarking progress is essential to a successful transition. The World Economic Forum's Energy Transition Index, which ranks 115 economies on how well they balance energy security and access with environmental sustainability and affordability, shows that the biggest challenge facing energy transition is the lack of readiness among the world's largest emitters, including US, China, India and Russia. The 10 countries that score the highest in terms of readiness account for only 2.6% of global annual emissions.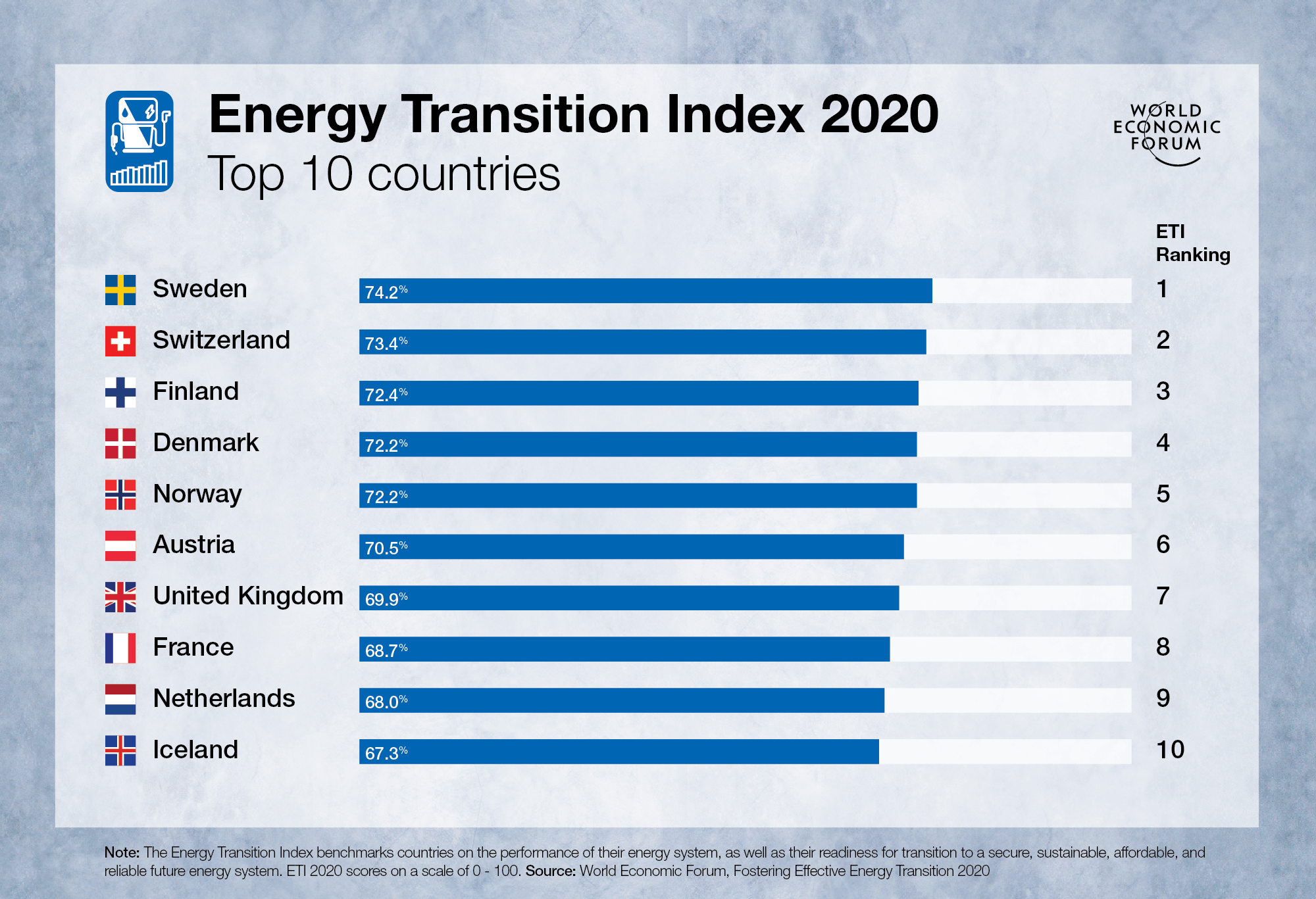 Additionally, the Mission Possible Platform (MPP) is working to assemble public and private partners to further the industry transition to set heavy industry and mobility sectors on the pathway towards net-zero emissions. MPP is an initiative created by the World Economic Forum and the Energy Transitions Commission.
Is your organisation interested in working with the World Economic Forum? Find out more here.
The European Union, on the other hand, will remain an energy importer. Due to the dense population of large parts of the EU, a massive expansion of renewable energies is socially challenging. The aim for Europe will be to build on both its strong and interconnected grid infrastructure and its powerful technology position.
The role that leading oil and gas producers will play in the future is more difficult to assess. Russia, the Middle East and other producing regions are facing a massive transformation. But, as with any major change, the risks come alongside the great opportunities created by the expansion of renewables.
Energy transition offers opportunities for all
Despite all of the geopolitical risks that the energy transition entails, it offers immense opportunities for traditional exporters of energy, importers and new suppliers. It is an effort that will require deeper international trade relations, technology transfers and a political framework to ensure that a successful energy transition leaves no-one behind.
So we should adopt the motto of this year's World Economic Forum: "Working together, restoring trust." If political leaders, business and society as a whole take this to heart, hydrogen can play an important role in the energy transition. Let's seize these opportunities – collectively and confidently.