New statistics from the IEA show that our energy supply mix has not changed as much as the global effort at decarbonization might suggest.
Natural gas and nuclear energy have grown in importance.
Renewables continue to have a very low share in the global energy supply.
2020 could be the turning point for our climate.
Concorde made its first non-stop transatlantic flight, the Watergate scandal was raging, the US withdrew from Viet Nam, and an oil crisis set petrol prices soaring.
The year was 1973. You might think that a lot has changed since then.
The biggest difference between global energy supply in 1973 and today is that the world relies less on oil, while supply of coal and natural gas has increased in direct comparison.
In fact, global coal supply and demand has been rising over the past few decades, with Asia-Pacific as a major driver. From less than half of world demand and production in 2000, the region accounted for three-quarters of demand in 2018 as well as providing 73% of coal supplies.
The increase in natural gas in the energy supply mix by 6.8 percentage points may point to its increasing role as a coal replacement, for example in power generation and heating, and as a "transition" fuel to lower greenhouse gas emissions. On a lifecycle basis, natural gas gives off between a third to 50% less carbon dioxide when burned compared to coal, according to the IEA.
In terms of other "greener" forms of energy, nuclear power increased by more than eight percentage points while biofuels and waste grew by four percentage points.
Small share for renewable energy
The share of other sources – including renewables such as hydro, wind and solar power – has grown, but relative to fossil fuels, their overall share in global energy supplies remains small.
The charts underline the scope of the task ahead in terms of decarbonizing and reaching net-zero emissions by 2050.
What is the World Economic Forum's Sustainable Development Impact summit?
It's an annual meeting featuring top examples of public-private cooperation and Fourth Industrial Revolution technologies being used to develop the sustainable development agenda.
It runs alongside the United Nations General Assembly, which this year features a one-day climate summit. This is timely given rising public fears – and citizen action – over weather conditions, pollution, ocean health and dwindling wildlife. It also reflects the understanding of the growing business case for action.
The UN's Strategic Development Goals and the Paris Agreement provide the architecture for resolving many of these challenges. But to achieve this, we need to change the patterns of production, operation and consumption.
The World Economic Forum's work is key, with the summit offering the opportunity to debate, discuss and engage on these issues at a global policy level.
Policies in support of this goal are being put in place in many parts of the world – ranging from promoting electrification through renewable energy sources to boosting the use of hydrogen and deploying carbon-capture technology.
In Europe, which has been a leader in the transition to renewables, the first half of 2020 saw renewables generate more electricity to residential properties and businesses than fossil fuels for the first time, according to climate think tank Ember. More than a fifth of Europe's energy came from solar panels and wind turbines, with Denmark, Ireland and Germany leading the field.
What's the World Economic Forum doing about the transition to clean energy?
Moving to clean energy is key to combating climate change, yet in the past five years, the energy transition has stagnated.
Energy consumption and production contribute to two-thirds of global emissions, and 81% of the global energy system is still based on fossil fuels, the same percentage as 30 years ago. Plus, improvements in the energy intensity of the global economy (the amount of energy used per unit of economic activity) are slowing. In 2018 energy intensity improved by 1.2%, the slowest rate since 2010.
Effective policies, private-sector action and public-private cooperation are needed to create a more inclusive, sustainable, affordable and secure global energy system.
Benchmarking progress is essential to a successful transition. The World Economic Forum's Energy Transition Index, which ranks 115 economies on how well they balance energy security and access with environmental sustainability and affordability, shows that the biggest challenge facing energy transition is the lack of readiness among the world's largest emitters, including US, China, India and Russia. The 10 countries that score the highest in terms of readiness account for only 2.6% of global annual emissions.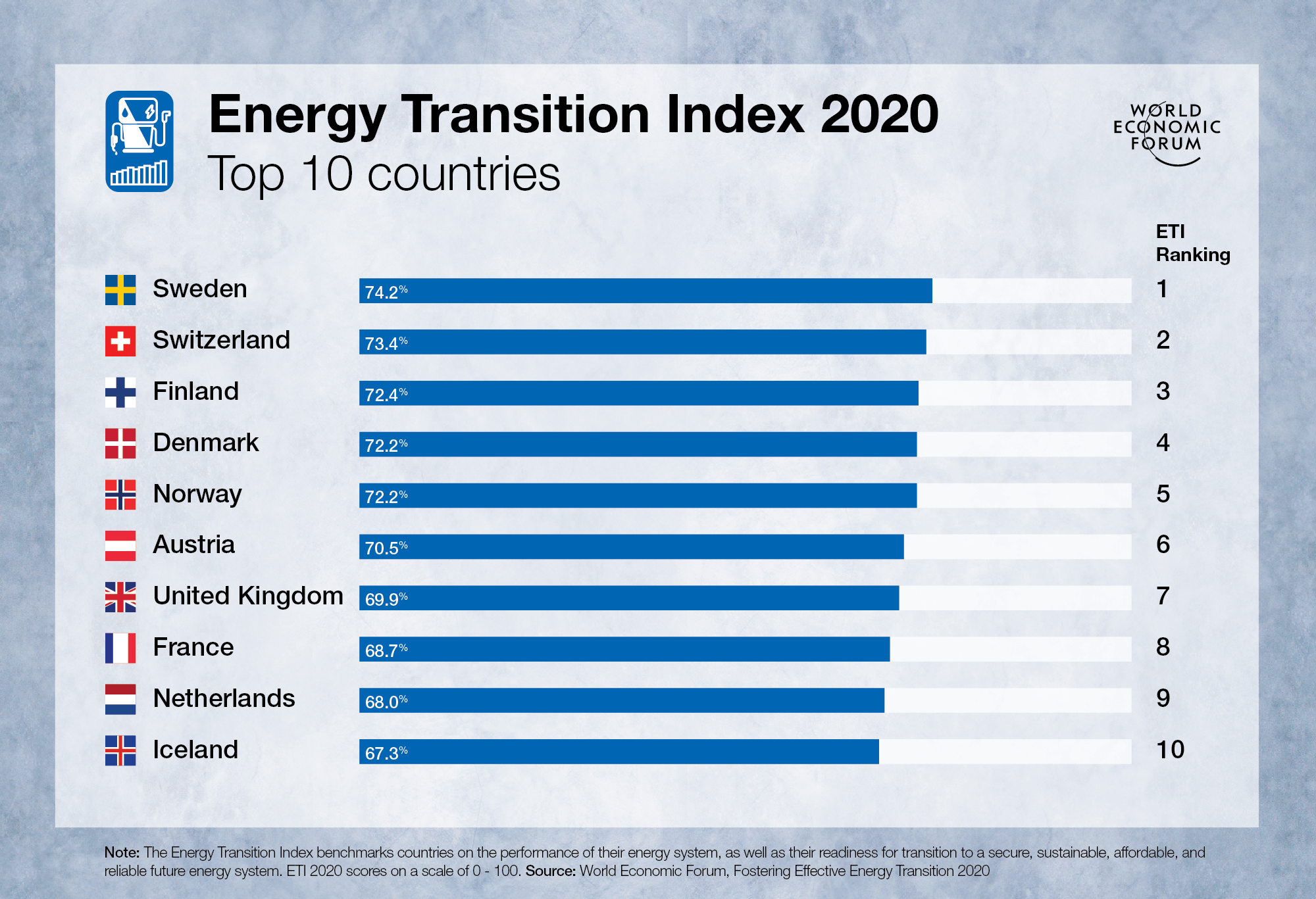 Additionally, the Mission Possible Platform (MPP) is working to assemble public and private partners to further the industry transition to set heavy industry and mobility sectors on the pathway towards net-zero emissions. MPP is an initiative created by the World Economic Forum and the Energy Transitions Commission.
Is your organisation interested in working with the World Economic Forum? Find out more here.
A 'Great Reset' for the climate
The dip in energy demand following the coronavirus lockdowns could provide a starting point for much stronger departure from past trends.
The "Great Reset", as Professor Klaus Schwab, Founder and Executive Chairman of the World Economic Forum, has called it, presents an opportunity to avoid reverting to the pre-COVID-19 status quo, and tackle the climate catastrophe much more proactively.
The expected 6% dip in energy demand and 8% drop in global CO2 emissions that the IEA is anticipating for 2020 could be the decisive turning point for the future of our energy mix and our planet.